Trading recommendations
Sell ​​Stop 1.0580. Stop-Loss 1.0620. Targets 1.0530, 1.0485
Buy Stop 1.0620. Stop-Loss 1.0580. Targets 1.0720, 1.0770, 1.0830, 1.0900, 1.0975, 1.1040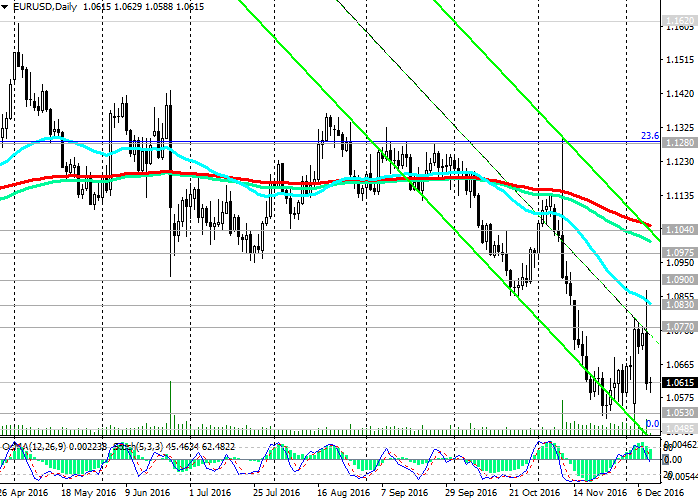 Today the market continues to assess the ECB's decision, however, further significant weakening of the euro is not observed. It is possible that at the end of the trading week, some investors will want to take profits on short positions on the euro, and it will create the conditions for growth in the euro.
Now attention switches to the traders the Fed meeting, scheduled for December 13-14. Widely expected that the Fed will raise short-term interest rates. However, investors are more interested in forecasts of future levels of interest rates, which will give managers the central bank.
Nevertheless, market participants expect further decline in the pair EUR / USD. ECB President Mario Draghi made it clear that tends to loose monetary policy. This ECB's monetary policy will continue to contrast with forecasts of further increases in interest rates in the US, which can cause a rollback pair EUR / USD below 1.0500 and further weakness toward euro parity with the dollar.
The EUR / USD traded in a narrow range near the 1.0610 mark. The dollar continues to be a favorite of the foreign exchange market. Nevertheless, we can assume some growth in the EUR / USD at the end of the week on profit-taking and an empty calendar.
From a technical point of view, is likely to further weakening of the pair EUR / USD. Indicators OsMA and Stochastic on the daily, weekly, monthly schedules are on the side of the sellers.
Short-term correction is possible above the level of 1.0770 (EMA200 on 4-hour chart). Possible short-term correction is said lights on the 4-hour chart, unfolding on long positions.
However, the EUR / USD pair continues to be a strong negative momentum against the background of large-scale strengthening of the dollar in the foreign exchange market, the weak macro of Statistics of the euro area, as well as different monetary policy of the ECB and the Fed.
In the case of consolidation above 1.0770 levels, 1.0830 can be seen further growth towards resistance level 1.0900 (lows achieved in the referendum on the day of publication Brexit), 1.1040 (EMA200 on the daily chart, EMA50 on the weekly chart).
More preferably still look short positions.
Support levels: 1.0570, 1.0530, 1.0485
Resistance levels: 1.0720, 1.0770, 1.0830, 1.0900, 1.0975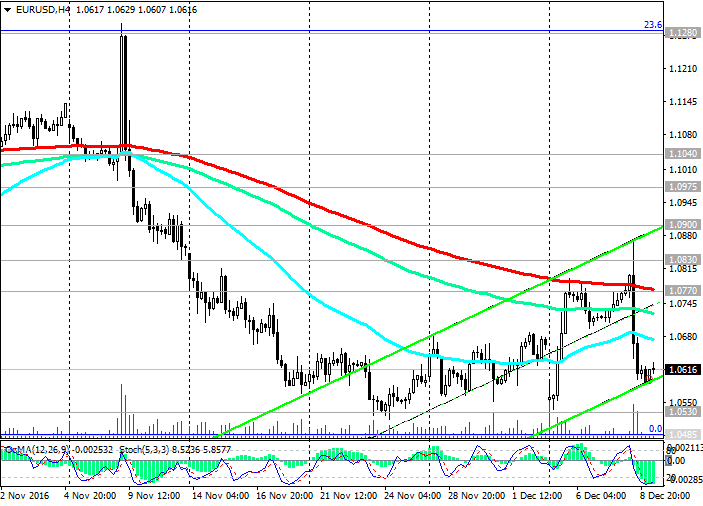 Author signals - https://www.mql5.com/en/signals/author/edayprofit
*)presented material expresses the personal views of the author and is not a direct guide to conduct trading operations.