Technical Analysis of EUR/JPY for July 4, 2016
General overview for 04/07/2016:

The corrective cycle in wave iv is evolving into a complex and time-consuming pattern, possibly a triangle or any other WXY complex structure. The technical resistance at the level of 115.48 is still the most important level for any bullish rally as it can not be violated. There is still one more wave to the downside missing in order to complete the structure.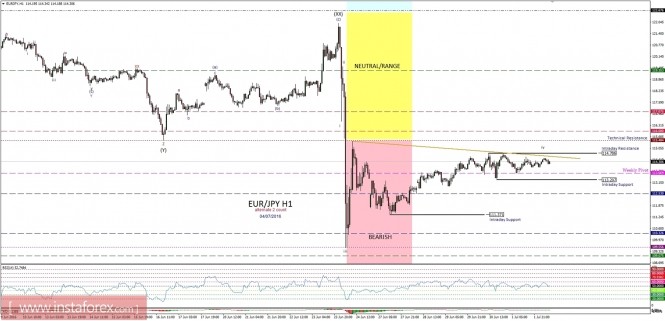 Support/Resistance:

109.07 - WS3

109.55 - Wave iii Bottom

110.32 - WS2

111.37 - Intraday Support

112.53 - WS1

113.29 - Intraday Support

113.66 - Weekly Pivot

114.78 - Intraday Resistance

115.48 - Technical Resistance

116.00 - WR1

117.07 - WR2

119.33 - WR3

Trading recommendations:

Day traders should consider opening sell orders at current price levels, with SL above the level of 115.50 and TP open for now. The reason for this trade is, that there is still one more wave to the downside missing.

The material has been provided by