USD/CAD reversed directions and lost ground 110 points last week. The pair closed the week slightly below the 1.29 line. This week's key event is Core Retail Sales. Here is an outlook on the major market-movers and an updated technical analysis for USD/CAD.
In Canada, Manufacturing Production beat expectations, while CPI came in at 0.3%, matching expectations. In the US, the Fed held rates and gave no hints about a rate hike. Retail Sales were within expectations, while CPI posted a weak gain of 0.2%.
Updates:
USD/CAD daily graph with support and resistance lines on it. Click to enlarge: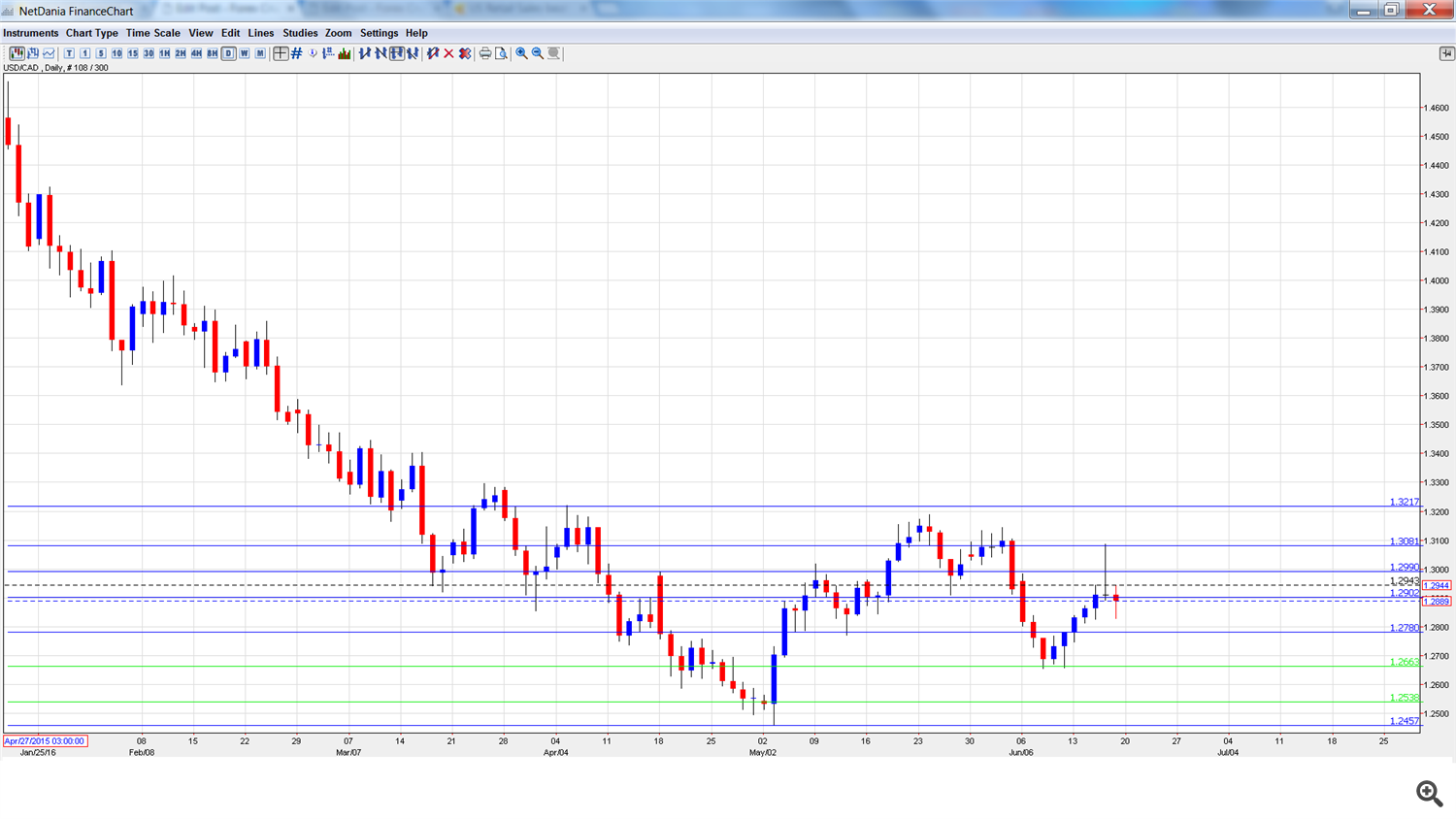 Wholesale Sales: Monday, 12:30. Wholesale Sales has failed to post a gain in 2016. The indicator declined 1.0% in March, well short of the forecast of +0.5%. The markets are expecting a gain of 0.2% in the April release.
Core Retail Sales: Wednesday, 12:30. The indicator declined 0.3% in March, following two declines. This edged above the forecast of -0.4%.
Retail Sales: Wednesday, 12:30. Retail Sales is the primary gauge of consumer spending. In March, the indicator dropped 1.0%, weaker than the forecast of -0.7%.
USD/CAD Technical Analysis
USD/CAD opened the week at 1.2779 and quickly touched a low of 1.2746. The pair then reversed directions and rose to 1.3086, as resistance was tested at 1.3081. USD/CAD then retracted and closed the week at 1.2889.
Technical lines, from top to bottom
1.3219 was a cap in April.
1.3081 was tested but remains a strong resistance line.
1.2990 is next.
1.2900 starts the week just above the current level of USD/CAD. It will likely see action early in the week.
1.2780 is providing support.
1.2663 has held firm in support since early May.
1.2538 is next.
1.2459 is the final support level for now.
I am neutral on USD/CAD
The Fed stayed on the sidelines last week, and we may not see a rate hike before September. Canadian numbers have been solid, and US numbers appear to have recovered after the dismal Nonfarm Payrolls report.