At the end of last week, as expected, the Bank of Canada did not begin to change the interest rate, leaving it at 1.25%. As Bank of Canada Deputy Governor Lawrence Schembri said earlier last month, the Bank of Canada "has to hedge itself because of the uncertainty surrounding NAFTA negotiations". The uncertainty associated with the prolongation or amendment of the terms of the NAFTA negatively affects the quotes of the Canadian currency.
In addition, since June 1, US import duties on steel and aluminum (25% and 10%, respectively), including those supplied from Canada, have come into effect.
Last Thursday, Canadian Prime Minister Jasin Trudeau announced a response to the United States duties. The total value of imports from the US, which will be subject to new duties, is 16.6 billion Canadian dollars (12.8 billion US dollars). This corresponds to the value of Canada's exports to the US for 2017. This is the strongest response measures that the country has decided to apply since the Second World War.
Weaker oil prices also put pressure on CAD. The Canadian economy largely depends on the export of raw materials, primarily oil and oil products. The largest partner of Canada and the buyer of Canadian oil are the United States.
On Thursday (15:15 GMT), the speech of the head of the Bank of Canada Stephen Poloz will begin. He will explain the bank's position and assess the current economic situation in the country. If the tone of Stephen Poloz's speech is tough with respect to the monetary policy of the Bank of Canada, the Canadian dollar will strengthen on the foreign exchange market. If Stephen Poloz expresses his support for maintaining soft monetary policy, the Canadian currency will decline. In any case, during the speech of Stephen Poloz high volatility in trading on the Canadian dollar is expected.
Investors also want to hear the opinion of Poloz about NAFTA's prospects and regarding Canada's counter measures after the introduction of US import duties on steel and aluminum.
Also, the dynamics of the Canadian dollar could be affected by the publication on Friday (12:30 GMT) of data on the Canadian labor market for May.
Unemployment in April was 5.8%. In the case of rising unemployment and a decrease in the number of employed, the Canadian dollar will decline. If the data prove to be better than the forecast, the Canadian dollar will strengthen. However, the impact of this publication on the dynamics of USD / CAD will be short-term, and the upward trend of the pair USD / CAD in the current situation is likely to continue.
*)An advanced fundamental analysis is available on the Tifia Forex Broker website at tifia.com/analytics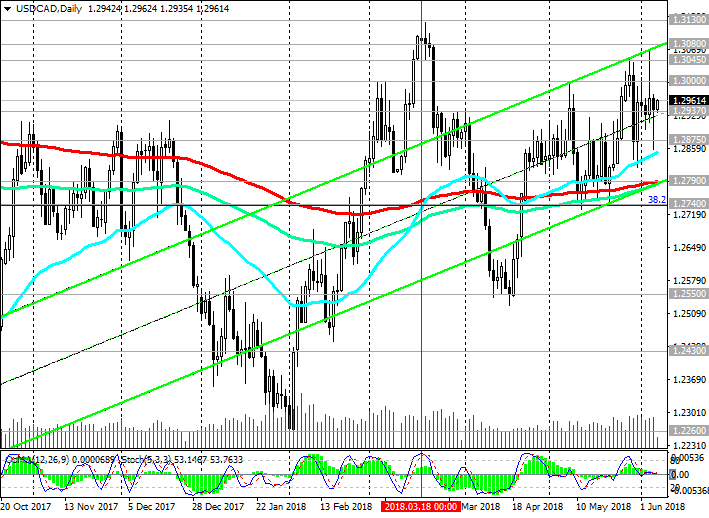 Support levels: 1.2937, 1.2900, 1.2875, 1.2790, 1.2740, 1.2600, 1.2550
Resistance levels: 1.3000, 1.3045, 1.3080, 1.3130, 1.3200, 1.3450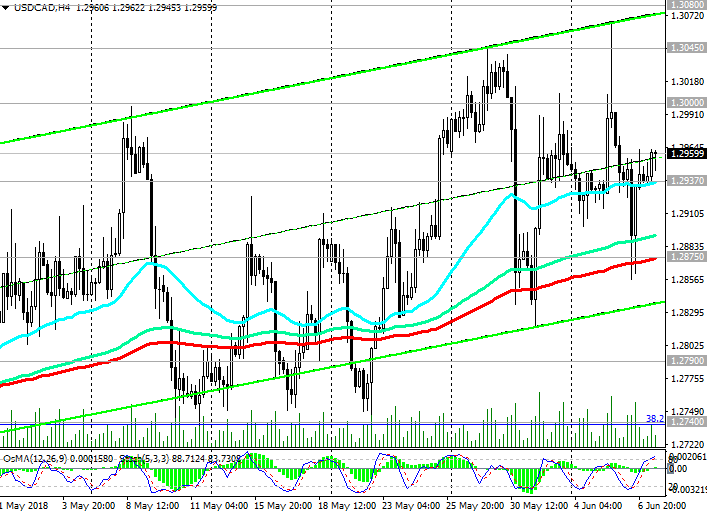 Trading Scenarios
Sell ​​Stop 1.2910. Stop-Loss 1.2975. Take-Profit 1.2875, 1.2790, 1.2740
Buy Stop 1.2975. Stop-Loss 1.2910. Take-Profit 1.3000, 1.3045, 1.3080, 1.3130, 1.3200, 1.3450
*) For up-to-date and detailed analytics and news on the forex market visit Tifia Forex Broker website tifia.com