Interesting script?
So post a
link
to it -
let others appraise it

Exp_i-SpectrAnalysis_RVI - expert for MetaTrader 5
Views:

2627

Rating:

votes: 14

Published:

2016.09.19 12:40

Updated:

2016.11.22 07:32
You are missing trading opportunities:

Free trading apps
Free Forex VPS for 24 hours
Over 8,000 signals for copying
Economic news for exploring financial markets

If you do not have an account, please

register
The Exp_i-SpectrAnalysis_RVI EA is based on the signals generated by the i-SpectrAnalysis_RVI oscillator. The signal is formed when a bar is closing if there is crossing of the main and signal lines of the indicator, and if there is a change in the indicator cloud color.
This Expert Advisor requires the compiled indicator file i-SpectrAnalysis_RVI.ex5 in order to run. Place it to <terminal_data_folder>\MQL5\Indicators.
It should be noted, that the averaging algorithm used in the i-SpectrAnalysis_RVI causes the resulting indicator to be redrawn on all bars. Therefore, after some it is impossible to get the picture of the real indicator state for the moment when the deal was performed.
Note that the TradeAlgorithms.mqh library file allows using Expert Advisors with brokers who offer nonzero spread and the option of setting Stop Loss and Take Profit together with position opening. You can download more variants of the library at the following link: Trade Algorithms.
Default Expert Advisor's input parameters have been used during the tests shown below. Stop Loss and Take Profit have not been used during the tests.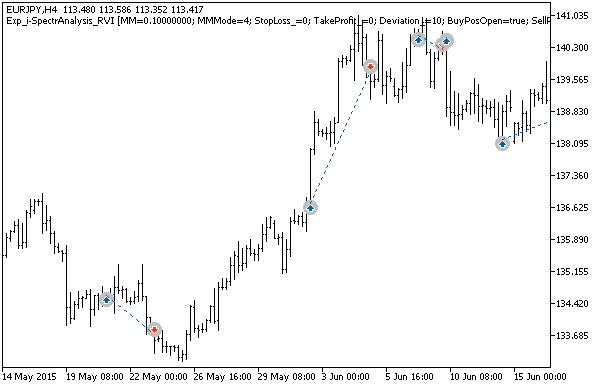 Fig. 1. The instances of history of deals on the chart.
Testing results for 2015 on EURJPY H4: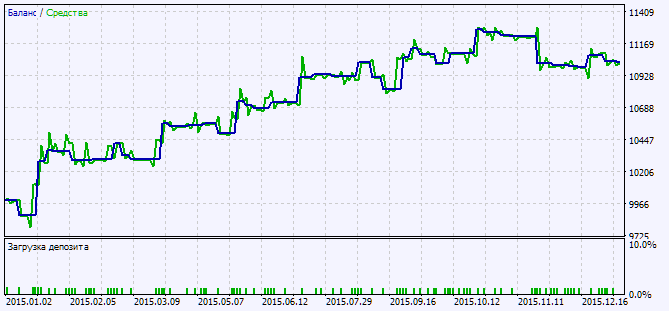 Fig. 2. Testing results chart
Translated from Russian by MetaQuotes Ltd.
Original code: https://www.mql5.com/ru/code/16109

PPO_SignAlert
Semaphore signal indicator based on the relative smoothed rate of price change, which features alerts, sending emails and push-notifications to mobile devices.

BalanceOfPower_Histogram
The Balance of Power (BOP) indicator as a color histogram of strength and direction of the current trend.
CPrice
Instance of the class returns such values as Bid, Ask, High, Low, Close and Open prices of the current candle or any other specified in the parameters, as well as the candle opening time.

DSSBressertSignAlert
Semaphore signal indicator based on the algorithm of the DSSBressert indicator, which features alerts, sending emails and push-notifications to mobile devices.