Despite the fact that oil and oil products stocks in the US raised again last week, oil prices on Wednesday rose after a many-day drop from the level of $ 70.00 per barrel of Brent crude oil. At the beginning of the month, the oil market was under pressure amid a decline in world stock indices and an increase in oil production in the US.
As reported on Wednesday in the US Department of Energy, oil reserves in the US last week increased by 1.8 million barrels (the forecast was + 2.6 million barrels). The American Petroleum Institute (API) on Tuesday reported an increase in reserves of 3.9 million barrels. Brent crude at ICE went up $ 1.64 on Wednesday, or 2.6%, to $ 64.36 a barrel.
Growth in oil prices on Wednesday also was contributed by the media reports that Saudi Arabia confirmed its commitment to the plan to limit the supply. "We believe that it is better for us to take redundant steps (to reduce supply) and ensure the restoration of the balance of the market", Saudi Energy Minister Khaled Al-Falih said at a press conference in Riyadh. In November, OPEC extended the deal to limit the offer until the end of 2018, and the cartel agreed to reevaluate the transaction in the middle of the year.
The renewed weakening of the dollar and growth in stock exchanges also supports oil prices in the current situation. On Wednesday, the dollar showed a large decline after it published disappointing data on retail sales in the US in January. Despite the fact that inflation accelerated in January, retail sales in January fell by 0.3%, which was the strongest drop in almost a year (the forecast assumed growth of retail sales in January by 0.2%).
After the publication of disappointing data on retail sales, economists lowered forecasts for US GDP growth in the first quarter of 2018. Based on the data presented this week, it can be concluded that the budget deficit and the deficit of US foreign trade are growing, and the risks of slowing GDP growth are also increasing. This could be an important factor that increases the Fed's predilection for maintaining a soft monetary policy.
Nevertheless, on Friday, the oil market may again be under pressure if the data on the number of operating drilling rigs in the United States indicate the next increase in the number of installations, and, consequently, the growth of oil production. The weekly report from the American oil service company Baker Hughes on the number of active oil drilling rigs in the US will be presented at 18:00 (GMT). At the moment, their number is 791 units. The positive dynamics of both the growth in the number of active drilling rigs in the United States and the volume of oil production prevails, which is a strong deterrent for the further growth of oil prices.
*)An advanced fundamental analysis is available on the Tifia Forex Broker website at tifia.com/analytics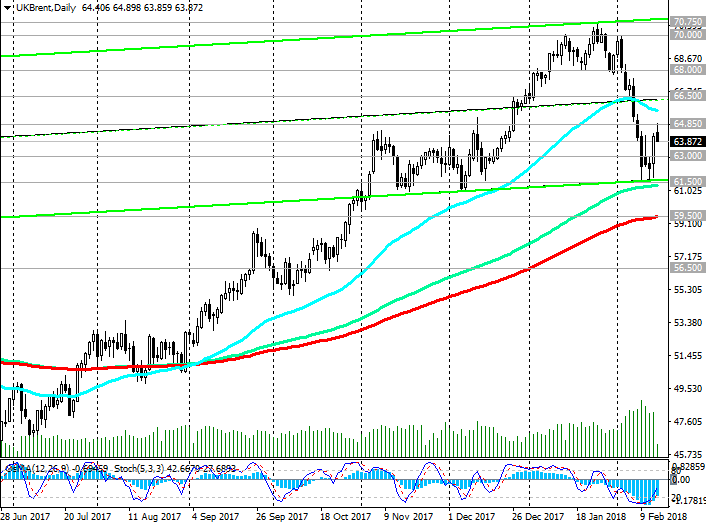 Support levels: 64.00, 63.00, 61.50, 59.50, 56.50
Resistance levels: 64.85, 66.50, 68.00, 69.00, 70.00, 70.75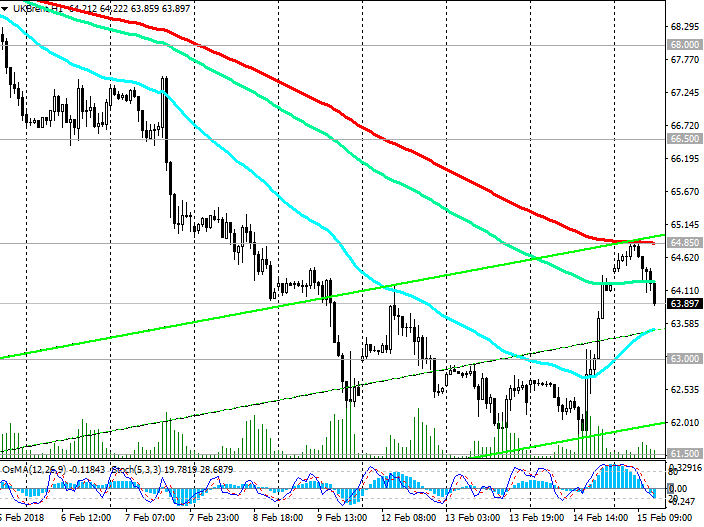 Trading Scenarios
Sell ​​Stop 63.90. Stop-Loss 64.90. Take-Profit 63.00, 61.50, 59.50, 56.50
Buy Stop 64.90. Stop-Loss 63.90. Take-Profit 66.50, 68.00, 69.00, 70.00
*) For up-to-date and detailed analytics and news on the forex market visit Tifia Forex Broker website tifia.com