Last week:
During last week, market went bearish, dropping to as low as 1.1669.
Market was opened on Monday at 1.1789, it rises to its maximum price at 1.1814 on Mon, 10/02/2017 - 01:30, then it drops to its minimum price at 1.1669 on Fri, 10/06/2017 - 15:30 and finally it was closed on Friday at 1.1734.
Technical analysis:

A

peak

is formed in daily chart at 1.2035 on Wed, 09/20/2017, so more loses to

support(s)

1.1715, 1.1615, 1.1495 and to more depths is expected.
Price is below WEMA21, if price rises more, this line can act as

dynamic resistance

against more gains.
Relative strength index (RSI) is 42.
Current short-term is

range bound

, but

beginning of downtrend

is expected.
Trading suggestion:
There is possibility of temporary retracement to suggested resistance zone (1.2040 to 1.2070), if so, traders can set orders based on Daily-Trading-Opportunities and expect to reach short-term targets.

Beginning of entry zone (1.2040)
Ending of entry zone (1.2070)
Supports and Resistances:
1.1875
1.1715
1.1615
1.1495
1.1320
1.1140
1.0850
1.0715
1.0520
1.0335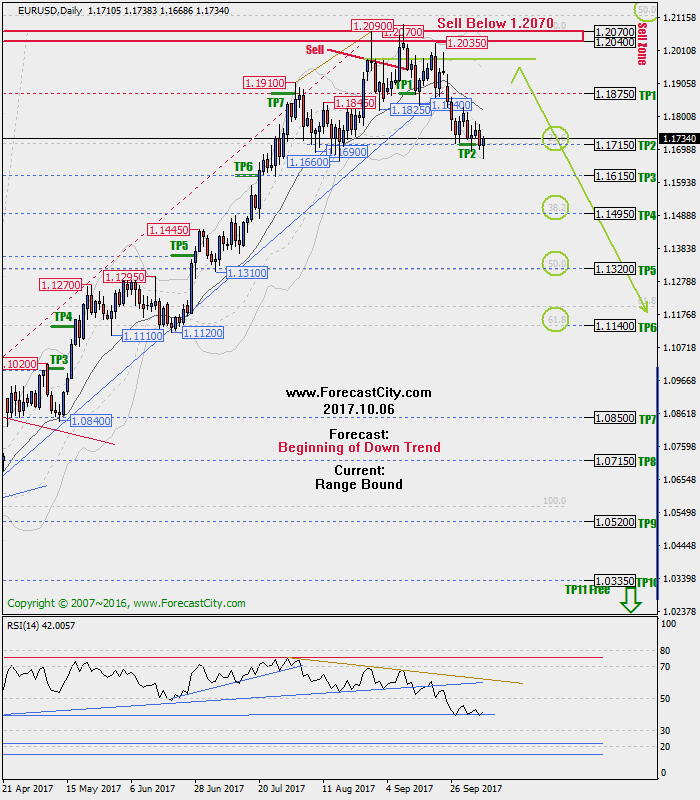 #EURUSD
Total Profit: 2276 pip
Closed trade(s): 314 pip Profit
Open trade(s): 1962 pip Profit
_______________________________________________
Trade Setup:
We opened 11 SELL trade(s) @ 1.1952 (day close price) based on 'Peak' at 2017.09.11 signaled by DTO:
https://www.ForecastCity.com/forecasts/Forex/daily-trading-opportunity/E...
Closed Profit:
TP1 @ 1.1875 touched at 2017.09.13 with 77 pip Profit.
TP2 @ 1.1715 touched at 2017.10.03 with 237 pip Profit.
77 + 237 = 314 pip
Open Profit:
Profit for one trade is 1.1952(open price) - 1.1734(current price) = 218 pip
9 trade(s) still open, therefore total profit for open trade(s) is 218 x 9 = 1962 pip
_______________________________________________