The graph shows the profit that an investor could have received in the Forex market, on just one transaction during the first half 2017, having opened the position on January 1 and closed it on 30 June.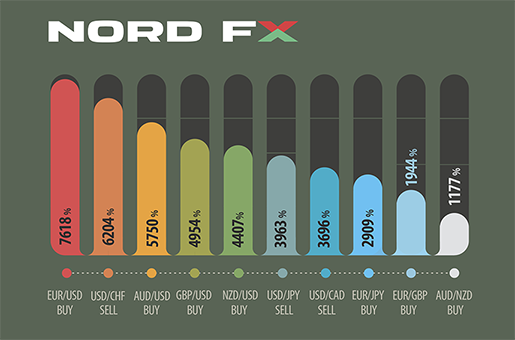 High profitability would have been achieved if the transaction was opened in the right direction (sell, buy) and 100% of the deposit was involved, with the maximum leverage NordFX provides its customers with, namely of 1: 1000.
The maximum profit was shown by currency pairs with the US dollar. The main reason for such high volatility lies in the internal political tension in the USA, connected with President Donald Trump and his administration.
Thus, in the first six months of 2017, the US dollar weakened by more than 900 points against the European currency. And with the correct investment, the pair EUR/USD could make a profit exceeding 7600%, in just one transaction.
Even the pairs that are usually more calm, such as AUD/USD and NZD/USD, showed very significant profits in the first two quarters - of 5750% and 4407%, respectively.
The currency pairs that do not have direct connection to the US dollar, EUR/JPY, EUR/GBP and AUD/NZD, are closing the TOP-10. The "outsider" of the rating - the pair AUD/NZD - showed a profit of "only" 1177%. (The word "only" is intentionally placed in quotations marks, since even such a profit is hundreds of times higher than the interest on bank deposits).
At the same time, we recall that we only talk about one transaction - the length of which would be from January 1 to June 30 this year. But if the investor, having opened a transaction to buy on January 1, 2017, closed it in mid-March, and then opened the opposite one - to sell, he would have received a profit of 13,700%.