The dollar continues to decline in the foreign exchange market. Disappointing data from the labor market in the US, published last Friday, the political uncertainty surrounding the US president put pressure on the dollar. The yield of 10-year US Treasuries on the background of the resumption of their active purchases from investors has been steadily declining, falling to the level of 2.1%, the lows since November 10. The decrease in bond yields puts pressure on the US dollar.
The index of the dollar WSJ, which reflects the value of the US dollar against the basket of 16 other currencies, has declined by 0.2%, to 88.16. Thus, the index of the dollar WSJ approached the levels where it was before the victory of Donald Trump in the November 8 elections, having lost almost all the achievements in growth.
Yesterday, the US published a mixed macroeconomic statistics, which added more questions than the answers before the Fed meeting on June 13-14.
Thus, the ISM business activity index in the US services sector fell in May to 56.9 (against the forecast of 57.0 and the value of 57.5 in April). In general, the indicator above 50 indicates a stable state of this sector of the economy; however, its relative decrease negatively affects the quotations of the dollar.
Despite the fact that investors continue to assess the probability of a June rate hike in the US higher than 90%, the dollar remains under pressure.
Nevertheless, since the beginning of the week, the dollar has been rising against the euro. The euro also declines in crosses to other major currencies. On Thursday, the ECB will hold a regular meeting on monetary policy, and on the eve of this meeting, investors prefer to go into safe assets - yen, gold. It is expected that the ECB will leave unchanged the current monetary policy.
The upcoming parliamentary elections in the UK, scheduled for June 8, apparently also put pressure on the euro through the cross-pair EUR / GBP.
Nevertheless, the pair EUR / USD remains positive, staying within the upward channel on the daily chart and near the important resistance level 1.1280 (Fibonacci level of 23.8% corrective growth from the lows reached in February 2015 in the latest wave of global decline of the pair with level 1.3900).
Back to consideration of short positions on the EUR / USD pair is possible only after consolidating the pair below the short-term support level 1.1215 (200-period moving average on the 1-hour chart).
Nevertheless, the technical indicators on the 1-hour, 4-hour charts turned to short positions, signaling while for a short-term downward correction for the pair EUR / USD. The immediate goal of this correction is level 1.1215.
Support levels: 1.1245, 1.1215, 1.1185, 1.1155, 1.1120, 1.1100, 1.1020, 1.1000, 1.0950, 1.0875
Resistance levels: 1.1280, 1.1340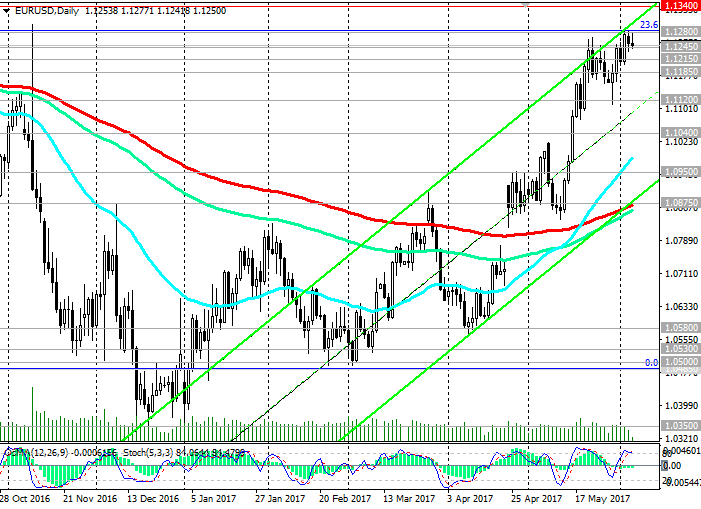 Trading recommendations
Sell ​​Stop 1.1230. Stop-Loss 1.1285. Take-Profit 1.1215, 1.1185, 1.1155, 1.1120, 1.1100, 1.1020, 1.1000, 1.0950, 1.0875
Buy Stop 1.1285. Stop-Loss 1.1230. Take-Profit 1.1300, 1.1340, 1.1400