After yesterday, British Prime Minister Theresa May unexpectedly announced early parliamentary elections, the British stock market collapsed. Following the index FTSE100, which lost almost 2.9%, followed all the European major stock indexes. Sale on the stock markets of the UK and Europe caused a sharp strengthening of the pound and the euro. The pair GBP / USD rose yesterday almost by 350 points, to the level of 1.2900, however, to the close of yesterday's trading day fell to the level of 1.2840.
The pound grew throughout the currency market, Investors expect that early general elections in the UK will allow Prime Minister Theresa May to consolidate the dominant position of the Conservative Party in parliament on the eve of the June elections in order to agree with the EU on more favorable conditions for Brexit. If the Conservative Party has more seats in the parliament, this will neutralize the influence of supporters of the tough scenario Brexit. Then the pound can get even stronger. At its last meeting, the Bank of England left interest rates unchanged at 0.25%. At the same time, inflation in February reached a maximum in more than three years amid a sharp weakening of the pound (more than 20%) after the referendum for Britain's exit from the EU. Recent positive macroeconomic data from the UK, as well as sharply increased inflation in the country, suggest that the Bank of England may return to the issue of raising the interest rate in the UK. And this is a positive factor for the pound.
From the news for today, we are waiting for the publication at 18:00 (GMT) of the Fed's economic review (Beige Book), which examines the current situation in the US economy. Optimistic views of economists, reflected in the review, will help strengthen the US dollar, and pessimistic - weaken the USD.
[b]Support and resistance levels[/b]
Yesterday, after Theresa May announced her decision, the pound and GBP / USD pair rose sharply. The pair GBP / USD broke through an important resistance level of 1.2770 (EMA200 on the day market).
At the same time, the US dollar regains its position in the foreign exchange market. In the GBP / USD pair, correction may also begin. The immediate goal of the decline in this case will be the level of 1.2770.
Indicators OsMA and Stochastic on the 1-hour, 4-hour charts were deployed to short positions.
The reverse scenario will be associated with the further growth of the GBP / USD pair in case of consolidation above the current high near the 1.2860 mark.
Negative dynamics of the pair GBP / USD prevails below the level of 1.2770. Only in the case of consolidation above the level of 1.2900 (yesterday's highs) can we consider the long positions for the pair GBP / USD.
Support levels: 1.2770, 1.2590, 1.2485, 1.2110
Resistance levels: 1.2905, 1.3000, 1.3350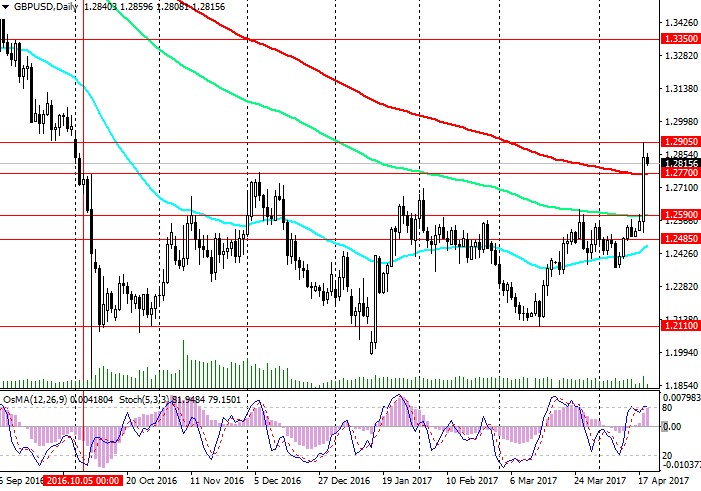 Trading scenarios
Sell ​​in the market. Stop-Loss 1.2865. Take-Profit 1.2770, 1.2590, 1.2485
Buy Stop 1.2860. Stop-Loss 1.2820. Take-Profit 1.2905, 1.3000, 1.3100