Gold Prices Pop after Fed, But Remain in Bearish Channel
Talking Points: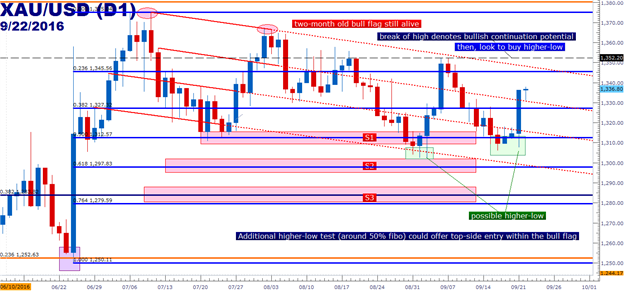 In our last article, we looked at the bull flag formation that had built in Gold prices over the prior two months; after the aggressive move higher in the first half of the year collected and consolidated in a down-ward sloping trend-channel, producing a bull flag formation. And if we match this up with shifts from the Federal Reserve this year, it makes sense. As the Fed has backed down from near-term rate hikes, happening in February, and March along with an implied shift in June; Gold prices have moved aggressively higher as the US Dollar has weakened. And then as the Fed goes into one of those 'hawkish commentary' modes where many Fed officials talk up the prospect of higher rates, and Gold prices move lower as the Dollar strengthens to factor in those higher probabilities of a near-term rate hike.
Yesterday saw a similar such meeting from the Federal Reserve, although the price action emanating from the announcement may not have the staying power that Gold bulls are looking for. The US Dollar tanked around yesterday's FOMC meeting as the bank adjusted rate expectations for 2017 and thereafter. However, the Fed did remain relatively hawkish for 2016, carrying the expectation that 'the case for a rate hike has strengthened,' opening the door for a potential move in December. The really attractive top-side setup in Gold will be when the Fed finally capitulates on this theme, which will likely happen should risk markets wobble as we move towards that December meeting.
The current setup in Gold remains near-term bearish but longer-term bullish, working deeper into the two-month old bull flag formation: And after yesterday's 2.3% rip off of the lows, chasing Gold prices higher from here could be a daunting prospect, as it seems as though we're waiting for the next 'lower-high' to print within the downward sloping channel.
To set stance moving forward traders can watch for the recent swing levels in order to define stance. The prior swing high from two weeks ago is at $1,352.49; and should price action break above this high we'll also have a break above the flag/channel formation. This could be assigned bullishly, at which point traders can try to catch a 'higher low. The 23.6% Fiboancci retracement of the post-Brexit move at $1,345.56 could be an opportune zone to begin watching for this should higher-highs come into the equation.
On the support side of price action, we have a potential higher-low in mid-September, above the prior swing-low set earlier in the month. Should price action revisit this zone around the 50% Fibonacci retracement around $1,312.57, while staying above the $1,306 swing low, a top-side setup could be sought out within the channel formation itself.