W1 price is located below 200 period SMA (200 SMA) and 100 period SMA (100 SMA) for the primary bearish market condition with secondary ranging between Fibo support level at 1.5089 and Fibo resistance level at 1.5929:
The price is trying to cross Fibo support level at 1.5089 from above to below for the bearish trend to be continuing.
"The British Pound continues to seek out a bottom against the US Dollar after putting in a bullish morning-star formation on Thursday and Friday of last week. This morning-star formation comes on the heels of a 500+ pip drop after the Federal Reserve elected not to hike rates at their September meeting."
"This created a vacuum in the Cable that saw prices drop through numerous support levels as traders priced out higher rates for a UK economy that, like the US, is just starting to see the initial signs of 'recovery' take place within their economies. We hear from the Bank of England on Thursday, and this could provide the fuel for new trends should the bank make a concerted stance towards either rate hikes, or 'accommodation' due to the flurry of economic factors swirling the globe right now."
"The short-side of the Cable could also offer opportunity: Traders could look to set stops just above the 1.5250 level, which has capped the highs from Friday and Monday; with targets set to the 1.5089 level and then 1.5000 flat, which is a major psychological level in the pair. Just below 1.5000 is the 61.8% retracement of the secondary move at 1.4909 and this could provide a third profit target for short-side plays in GBP/USD."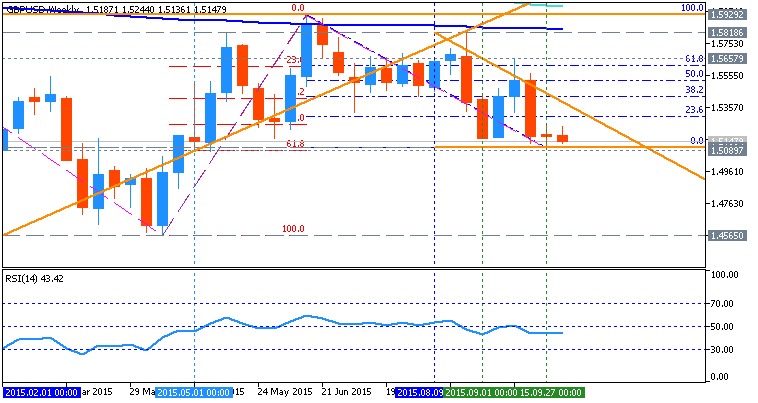 If the price will break Fibo support level at 1.5089 so the bearish trend will be continuing.
If not so the price will be ranging within the levels.
Trend:

W1 - ranging bearish