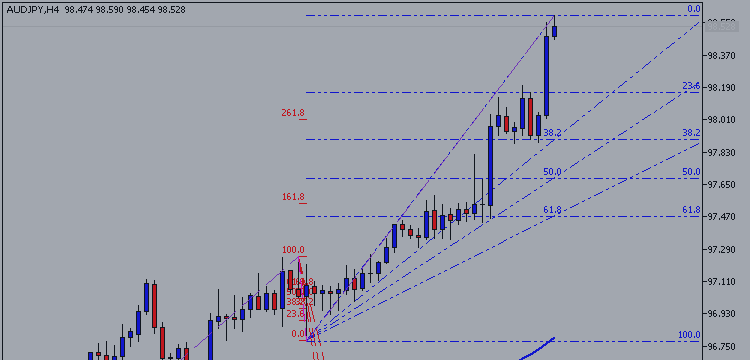 AUDJPY

AUD/JPY provides opportunities for traders of all time frames, and offers opportunities to traders who love volatility as well as range trading. Because it is held as a carry trade, it is highly sensitive to interest rate outlook changes in both Australia and Japan.
When the Australian interest rate outlook is bullish, the pair tends to trend. When the outlook turns neutral, the pair consolidates into a range. During times of range trading, traders can use slow stochastics, and real support and resistance levels to spot their entry and exit points.
AUD/JPY is actively traded during Asian banking hours, when Japanese and Australian banks are open. Since it is most active after US equity markets are closed, the AUD/JPY is an ideal pair for people who want to trade outside of US business hours.

What moved AUD/JPY

Gold Prices
Since Australia exports gold, the value of the AUD is correlated with the price of gold.
Oil Prices
The Japanese economy is very dependant on imported oil, so changes in the price of oil can affect the value of the Yen.
Australian Economic data
AUD/JPY is very sensitive to Australian fundamental data.
Royal Bank of Australia and Bank of Japan Monetary Policy changes
Since the AUD/JPY is a hot carry trade, changes in the interest rate outlook can cause sharp movements in the pair.
Fundamentals to Watch

Australian Employment Data
Measure of employment in Australia. Employment is an important gauge of the health of an economy.
Australian GDP
Gross Domestic Product. A measure of Australian economic growth. Steady, stable growth levels are ideal for developed nations.
Australian CPI
Consumer Price Index. A measure of inflation in Australia. Too much or too little inflation could have implications for Australian monetary policy.
Australian Retail Sales
A measure of health in the retail sector of the economy.
Australian Trade Balance
Australia is a net exporter, meaning that Australia exports more goods than it imports. Changes in the trade balance can affect the price of Australia's currency.
RBA Rate Decision
Royal Bank of Australia's decision on the interest rate level. Interest rate changes can have implications for the desirability of the AUDJPY as a carry trade.
Japanese Inflation
A measure of inflation in Japan. Problematic when it is too low as this indicates little growth in the economy.
Japanese Consumer Spending
A measure of how much Japanese consumers are spending. The Japanese economy is driven primarily by its export sector, but consumer spending is an important gauge of economic activity and prosperity.
BoJ Monetary Policy Meeting
When Japanese bank officials meet to determine monetary policy. Has direct implications for currency traders since they often hint at whether or not they intend to intervene to protect the Yen from becoming too expensive—hence making their exports more expensive.
Japanese Trade Balance
Japanese imports vs. exports - the Japanese economy is highly dependent on exports; a drastic change in this number can have implications on the value of the Yen.
Japanese Industrial Production
A measure of activity in the Japanese manufacturing sector. This acts as a gauge for the level of production and growth in the economy.
Tankan Survey
A quarterly business survey assessing Japanese business conditions. The headline number shows the difference between the proportion of optimistic businesses and the proportion of pessimistic businesses. A large positive number means that optimism pervades.