Interesting script?
So post a
link
to it -
let others appraise it

News Detector for Mt4 & MT5 - expert for MetaTrader 4
Views:

10732

Rating:

Published:

2022.09.09 22:02
You are missing trading opportunities:

Free trading apps
Free Forex VPS for 24 hours
Over 8,000 signals for copying
Economic news for exploring financial markets

If you do not have an account, please

register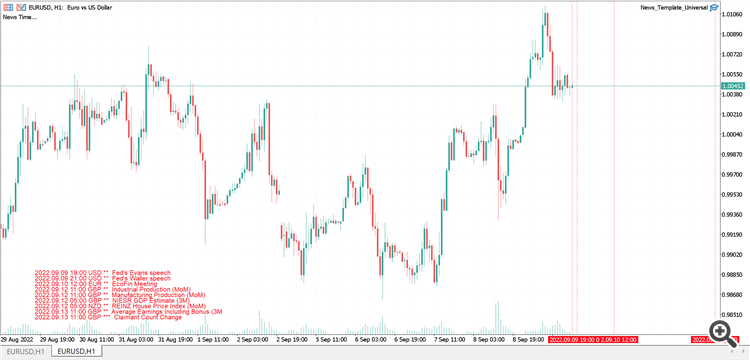 The same code can be compiled in mt4 as well. It gets News from FXStreet servers automatically which can be further filtered by importance level, Currency and Keyword in the News.
Mt5 version can be found here:
https://www.mql5.com/en/code/40590
Salient features of the code:
-Filter News by High, Low or Medium Volatility
-Filter By currencies
-Filter by News Keyword
-Auto GMT offset check
-Dashboard to show upcoming News (Can be enabled or disabled)
-Lines on chart for all Upcoming events
-Code can be easily modified to place trade at certain time before or after an event or to just stop trading during events.

Price Horizontal Line Notifications
Get notifications when hit price level

Draw trade history onto chart
Draw trade history onto chart

Uplinktrade Hedge
Our newest Ai trading software! Enjoy investing in the safest way. Uplink Trade Hedge is using a safe hedging strategy which allows you to invest safely into the forex market. No quick profits but an investment opportunity. Invest for your future!

TSV - Time Segmented Volume
Time segmented volume (TSV) is a technical analysis indicator developed by Worden Brothers Inc. that segments a stock's price and volume according to specific time intervals. The price and volume data is then compared to uncover periods of accumulation (buying) and distribution (selling). Time Segmented Volume was developed by Worden Brothers, Inc to be a leading indicator by comparing various time segments of both price and volume.