Trading the STRONG against the weak!
The Currency Strength Index (CSI) is a technical indicator to chart the strength momentum of the 8 major currencies. (EUR, GBP, AUD, NZD, USD, CAD, CHF, JPY)
The indicator is based on mathematical decorrelation of 28 cross currency pairs.
It uses the percentage difference in Linear-weighted averaging (LWMA) of the closing prices.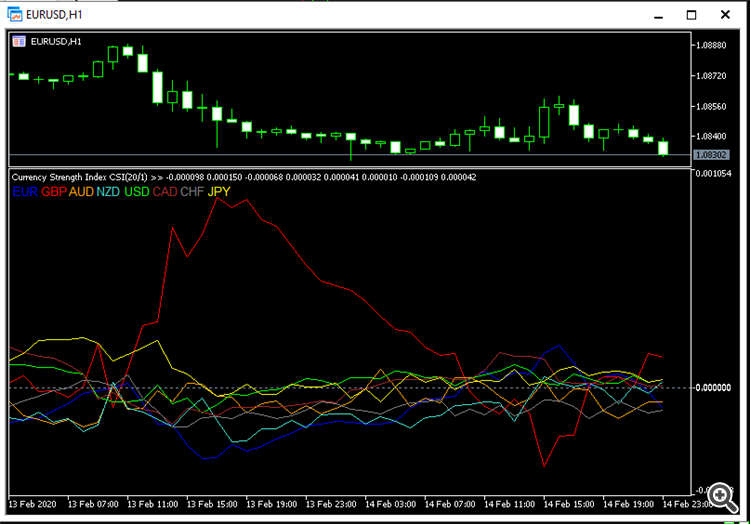 Basic idea

If X/Y currency pair is in an uptrend, it shows if it is due to X strength or Y weakness.
Imagine what it would be like to monitor the performance of all 28 currency pairs on one chart.
To see instantly which pairs are trending, and if so how strongly.
Advantages for trading strategies
Currency Strength Index (CSI) can be used as a support indicator for technical analysis.
It is an information indicator to realize which currencies are trending, this is an ideal indicator for trend follow traders.
It helps scalpers looking for strength trend.
It is an instrument for correlation traders to see reactions of each currencies on moves in correlated instruments.
It is a single indicator with which you can observe most of the Forex market in one chart.
Currencies and currency pairs move constantly from one to the other in all timeframes.
It helps you to identify the strongest/weakest currencies so you can pick the right currency pair to trade
Finally, the indicator will also help you to monitor current positions, with the indicator showing you when a currency has moved from one extreme to another and perhaps signalling a potential reversal in the opposite direction.


Installation:
The Currency Strength Index (CSI) can be applied to any chart for any currency pair.
The chart does not influence or affect the appearance or performance of the indicator.
For example you can apply the indicator to a GBP/USD, a EUR/USD, or a USD/CHF, or any other pair.
The indicator will display in an identical way on each chart.
On the first time, you may need to switch the chart timeframe a few times to allow all the indicator data to load.
Trading ideas:

Currencies that are significantly sloping away from each other are candidates for trend trading.
Currencies that run paralel to each other are ranging and can be traded from the top of a band or channel to the bottom with confidence.
Using the indicator in multiple timeframes is an excellent way to see whether a currency is rising or falling across several timeframes, adding a further dimension to your analysis, and allowing you to quantify the risk on any trade in a more detailed way.
Remember:

The Currency Strength Index (CSI) doesn't tell you when to enter a trade, it only helps you to filter for potential currency pairs to trade.
You can tweak the Currency Strength Index (CSI) to adapt to different trading timeframes.
Related links: