Interesting script?
So post a
link
to it -
let others appraise it

Export Summary Grouped by Trading Days (MT4) - script for MetaTrader 4
Views:

7955

Rating:

votes: 4

Published:

2019.06.24 11:27

Updated:

2019.12.26 21:46
You are missing trading opportunities:

Free trading apps
Free Forex VPS for 24 hours
Over 8,000 signals for copying
Economic news for exploring financial markets

If you do not have an account, please

register
The script exports summary of closed trades selected between two dates grouped by each trading day. The resulting file is CSV that can be opened/imported with any spreadsheet software.
To export summary for the entire trading history, keep Start date and End date at their default values.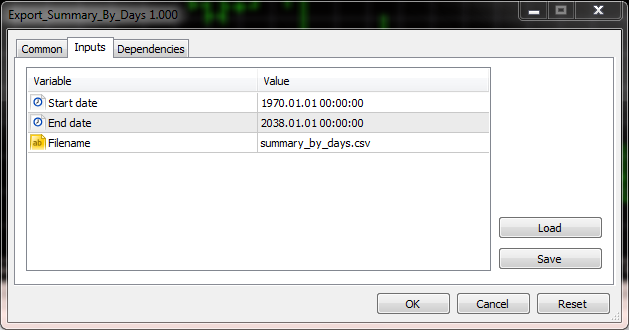 The CSV file is located at: Terminal > File > Open data folder > MQL4\Files\<Filename>
The CSV file will be auto-opened with the associated Windows program (e.g., Microsoft Excel or Ron's CSV Editor).
Following data columns are exported for each trading day:
Date of the trading day
Total trades
Volumes
Profits
Swaps
Commissions
Net profits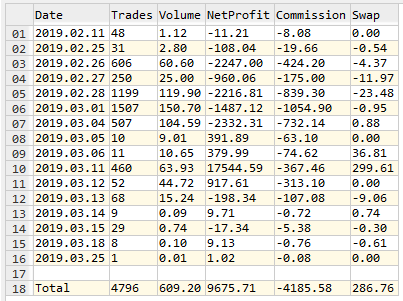 The CSV file can be opened with Microsoft Excel or better with Ron's CSV Editor.

EurGbp EA
All ingenious is simple!

Support Resistance Trader
Support and Resistance lines are used with the Standard Deviation indicator for generating trade signals.

MACD_Colored_Histogram_2019
Trending Indicator MACD with coloured Histogram to detect trend and retracements in that trend.

RSI Candles revised
Improved version inspired by RSI_candles by © mladen 2018 https://www.mql5.com/en/code/20968