Description:

Record, storage and displays of data, fully tick chart in MT.
Image: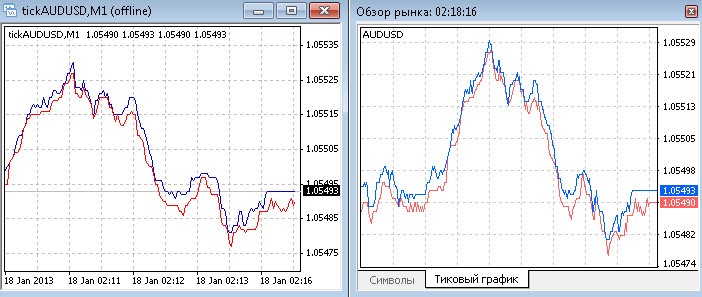 Structure of tick file:
iTime - modeling time.
iOpen - quote BID
iLow - quote BID
iHigh - quote ASK
iClose - quoteASK
iVolume - Time from server, precision to second.
Instruction:
Start the indicator to a chart. To open a tick chart -> File -> Open Offline -> "name of the symbol with the prefix tick". For example tickAUDUSD,M1
Tips:
Start the indicator to a chart, and save the template to "default", now when you open any chart, ticks data will automatically be written.
Open the needed symbols for recording, and save to your profile, click on File -> Profiles -> "Your Profile", it open all the charts required for record.
To continue record after unplanned shutdown of terminal, use script SandyE-7-Recovery!