The center of attention of traders today is the ECB meeting and press conference, during which the head of the ECB Mario Draghi will comment on the decision on the rates. It is expected that the basic interest rate will remain at the previous zero level, and the rate on deposits - at the level of -0.4%.
Greater interest for traders will be presented by the press conference of the ECB, as well as the rhetoric of statements by Mario Draghi.
Recently, from the Eurozone, macro data comes, indicating a slowdown in the growth rate of the European economy. Against the backdrop of steadily low inflation, the risks of slowing the growth of the European economy postpone for an indefinite period the probability of the beginning of the completion of the QE program. Mario Draghi previously repeatedly made it clear that it's too early to talk about folding QE. Moreover, the incentive program can even be extended as required.
During its last meeting in March, when the ECB kept its key interest rate at 0%, and the monthly asset purchase volume of 30 billion euros, the European Central Bank announced that the bond purchases will continue until September "or longer, if necessary", and that key interest rates will not increase "for a long period of time".
It is likely that today the ECB leaders will confirm the slowdown in the growth of the Eurozone economy and point to low inflation. Under these circumstances, it is still too early for the central bank to think about curtailing the QE quantitative easing program, at least until the next meeting on June 14.
Nevertheless, investors will closely monitor the performance of Mario Draghi at the press conference. He is famous for being able to develop markets. Similar ECB decisions and statements by Mario Draghi previously moved the euro rate by 3-5% in a short period of time.
If the ECB president's rhetoric indicates a propensity for a softer policy, this could lead to a further drop in the euro, and EUR / USD may fall to around 1.2000 or lower.
Recall that the decision on the rates will be published at 11:45 (GMT), and the press conference, during which the head of the ECB Mario Draghi, will start at 12:30 (GMT).
Any unexpected statements by Mario Draghi can lead to a significant increase in volatility, not only in the euro bid, but throughout the financial market.
*)An advanced fundamental analysis is available on the Tifia Forex Broker website at tifia.com/analytics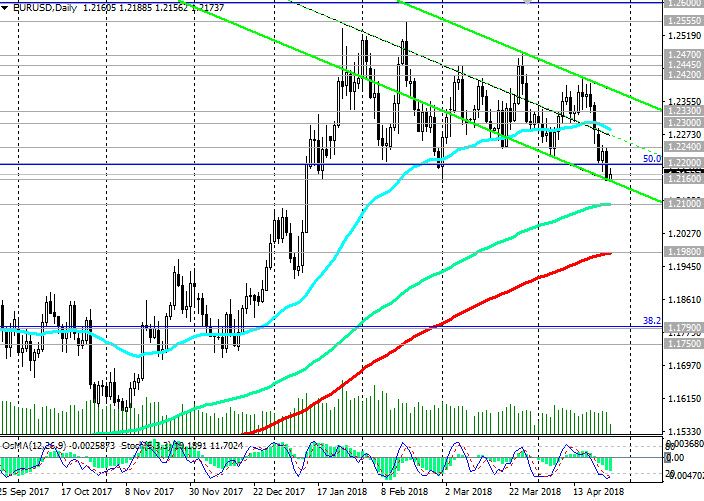 Support levels: 1.2160, 1.2100, 1.2000, 1.1980, 1.1850, 1.1790, 1.1750
Resistance levels: 1.2200, 1.2240, 1.2300, 1.2330, 1.2400, 1.2420, 1.2445, 1.2470, 1.2500, 1.2535, 1.2555, 1.2600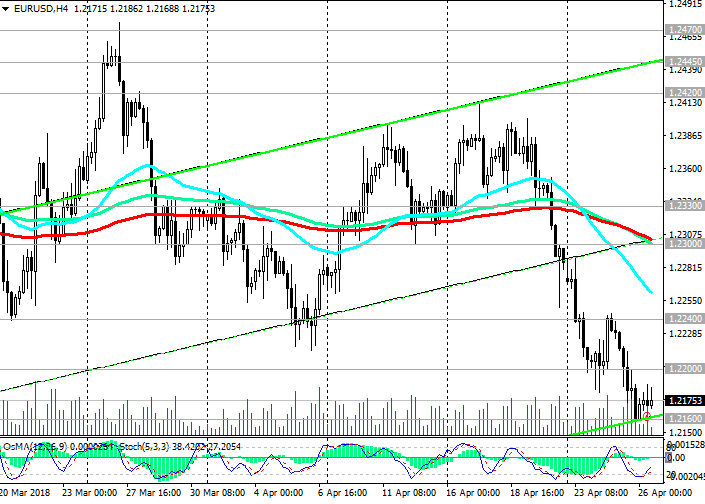 Trading Scenarios
Sell ​​Stop 1.2150. Stop-Loss 1.2210. Take-Profit 1.2100, 1.2000, 1.1980
Buy Stop 1.2210. Stop-Loss 1.2150. Take-Profit 1.2240, 1.2300, 1.2330, 1.2400, 1.2420, 1.2445, 1.2470, 1.2500
*) For up-to-date and detailed analytics and news on the forex market visit Tifia Forex Broker website tifia.com