World stock markets fell sharply on Wednesday after the state Chinese TV reported that import duties on imports of US goods to China totaled $ 50 billion. This is the answer to the new tariffs, which the US reported on Tuesday.
China announced a 25% duty on US imports, including soybeans, aircraft and cars. Deputy Finance Minister of China Zhu Guangyao and Vice Minister of Commerce of China Van Shouwen will hold a joint press conference on Wednesday evening. "Such unilateral protectionist measures clearly violate the fundamental principles and values ​​of the World Trade Organization", the Chinese embassy in the US said in a statement. China took these measures after the administration of Donald Trump on Tuesday said that it will levy duties from imported Chinese goods in the amount of $ 50 billion in excess of the duties imposed on steel and aluminum. Earlier this week, China introduced reciprocal duties on various American goods, including pork and fruit.
Strengthening trade contradictions between the US and China on Wednesday strengthened the price of gold, which traded with an increase of 0.76%, at 1343.00 dollars per troy ounce. Investors once again prefer safe haven assets, such as the yen, franc, and gold.
The Stoxx Europe 600 index dropped 0.9% after a statement on China's response fees. The key indices of Hong Kong and Singapore lost 2.2% and 1.8% respectively. The South Korean Kospi dropped 1.4%.
The main US indices also fell after this information. DJIA lost 1.8% to the beginning of the US trading session, falling to 23500.0. It is likely that with the opening of trading on US stock exchanges, the indices will continue to decline.
Volatility will raise both at the beginning of the US trading session and during the publication of important macro data on the US.
At 12:00 (GMT) ADP will present a monthly report on employment in the private sector of the US economy for March. This report usually has a strong impact on financial markets, although there is usually no direct correlation with Non-Farm Payrolls. Strong data will positively affect the dollar and indices. The number of employees in the private sector in the US is expected to increase by 205,000 (against +235,000 in February). This is a strong indicator, despite the relative decline.
A little later (at 13:45 and 14:00 GMT) indices of ISM business activity in the US services sector, as well as the indicator of orders for durable goods in the US in March will be published. The indicator reflects the value of orders received by producers of durable goods, implying large investments. The growth of indicators is expected, which will positively affect the indices and the dollar.
Nevertheless, investors will assess the risks and threats that have emerged against the background of escalating trade contradictions between the US and China, which will be the main driver in the financial markets in the short term.
*)An advanced fundamental analysis is available on the Tifia Forex Broker website at tifia.com/analytics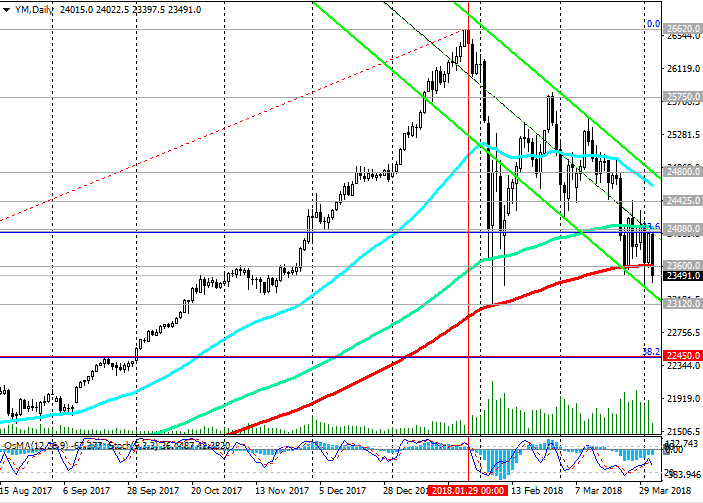 Support levels: 23600.0, 23120.0, 23000.0, 22450.0
Resistance levels: 24050.0, 24080.0, 24425.0, 24800.0, 25000.0, 25750.0, 26620.0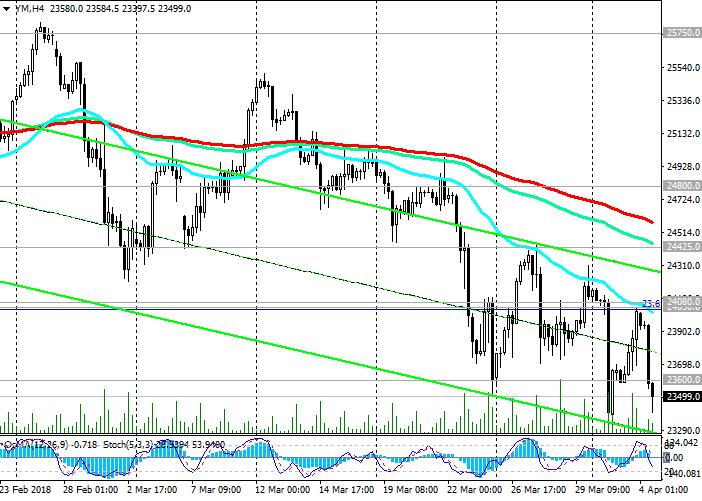 Trading Scenarios
Buy Stop 24200.0. Stop-Loss 23300.0. Take-Profit 24425.0, 24800.0, 25000.0, 25750.0, 26620.0
Sell ​​Stop 23300.0. Stop-Loss 24200.0. Take-Profit 23120.0, 23000.0, 22450.0
*) For up-to-date and detailed analytics and news on the forex market visit Tifia Forex Broker website tifia.com