BTC/USD marks during Asian hours a brand new record to beat
It is moving within a short-term bullish channel of complex resolution
The BTC/USD bullish bias is so entrenched that it makes for just enough to meet the retracement patterns. Even as it is developing a bearish pattern in the short term it is able to make new highs.
Right now it moves into the upper section of a triple bullish channel. The center channel is based on the $10,000 level. At this level is also the 200 SMA of the 60M chart.
BTC/USD 60M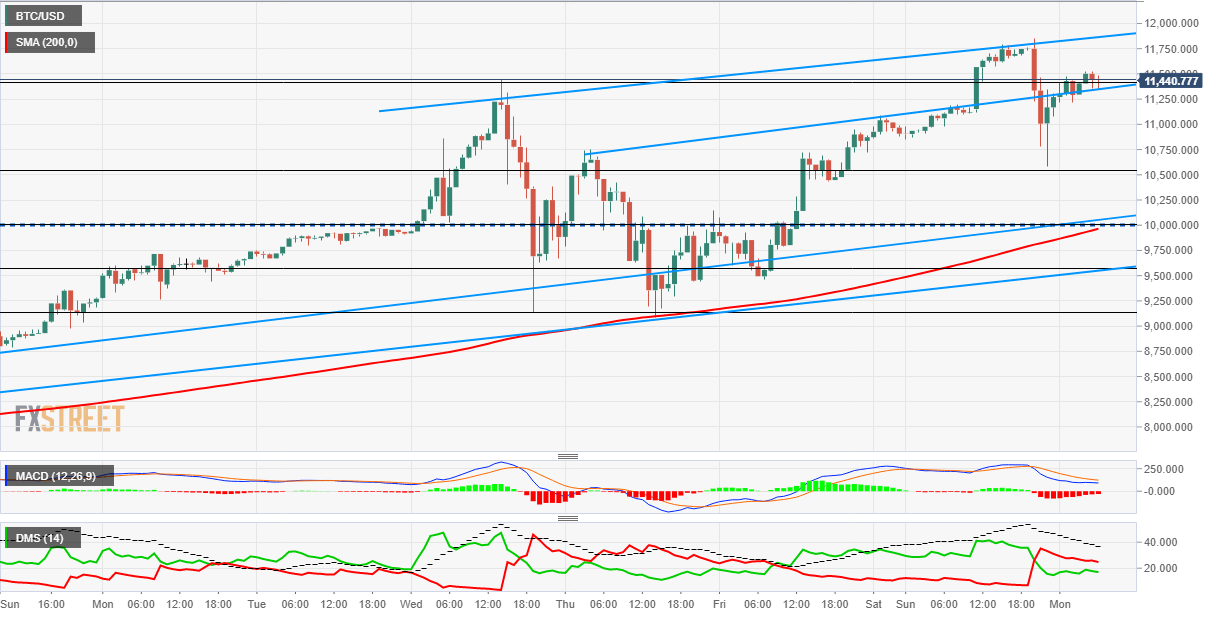 From the indicators point of view, the graph shows:
The MACD is found in positive territory but is cut down. It is compatible with spikes and falls in price. The level 0 of the MACD would be the point to watch in the event of a new bearish movement
The Directional Movement Index shows a loss of strength of ADX trend indicator. Sales remain higher than purchases, but the latter show a growing profile
On the 4 H chart we can see a structure with potential for new highs, but that can happen to turn bearish in the next periods. An attack during today at the level of $12,000 would break the current pattern.
It is likely that during the day that BTC/USD behaves relatively calmly on the bullish side. The bearish side shows much more space where to move without much change in the medium term perspective.
BTC/USD 240M
The indicators show:
The MACD still aimed upward but with an eye set on the signal line. A motion of rejection is possible when they meet, with the consequent upward movement in the cards
The Directional Movement Index shows equality between purchases and sales but both in high levels. The ADX is still in a downtrend, supporting the idea of a relaxation in the volatility of the asset
Conclusion
The Bitcoin shows in the very short term (1 day) bullish possibilities limited to the roof of the channel. An attack during today on the $12,000 level would break the current pattern, making a rethinking of the whole picture necessary.
In the short term (2-3 days) the technical aspect shows balance of forces in an environment of decreasing trend, supporting the possibility of some days of pause. If there is movement, the downward leg is the one having more distance to run.
On the upper side, the maximum of the day and the level of the $12,000s are levels to watch. If the price reaches them and overcomes them, it would open a new bullish scenario.
Below, the $10,000 level has accumulated support levels and moving averages. If it were broken down, the next level would be the $9,089, the point where the downward movement was finished last week