After earlier in the week the leadership of the RBA again decided to leave the key rate at 1.5%, the Australian dollar remains under pressure. The rate remains at this level since August 2016, and the central bank will most likely leave it unchanged until mid-2018.
The longer the RBA will remain idle, while many central banks raise interest rates, the stronger the Australian dollar will fall.
Despite the fact that Australian economic data draws a contradictory picture, the RBA is confident in accelerating GDP growth over time. In the coming years, the central bank expects to accelerate the annual GDP growth to 3%, which is almost double the current rate. The Australian economy for the current year has created more than a million jobs, which led to a drop in unemployment. At the same time, indicators of conditions for doing business and business confidence have peaked in the last ten years.
On the other hand, inflation data for the 3rd quarter were not particularly impressive. Core inflation, according to the RBA, will not reach the lower end of the target range of 2% -3% until mid-2019. Retail sales in the middle of the year fell sharply, and a slowdown in house prices could undermine consumer confidence.
Thus, the Reserve Bank of Australia is in a difficult situation. It can not raise interest rates with weak inflation and high levels of consumer debt, but it can not reduce them because of fears of increasing risks of destabilizing the financial system.
Many economists believe that the RBA will return to the issue of raising the interest rate in the country not earlier than mid-2019.
And this, amid a large-scale strengthening of the US dollar due to the expectations of a phased tightening of monetary policy in the US, creates the conditions for further reduction of the AUD / USD pair.
Support levels: 0.7650, 0.7600, 0.7570, 0.7500, 0.7460
Resistance levels: 0.7720, 0.7755, 0.7800, 0.7850, 0.7885, 0.7980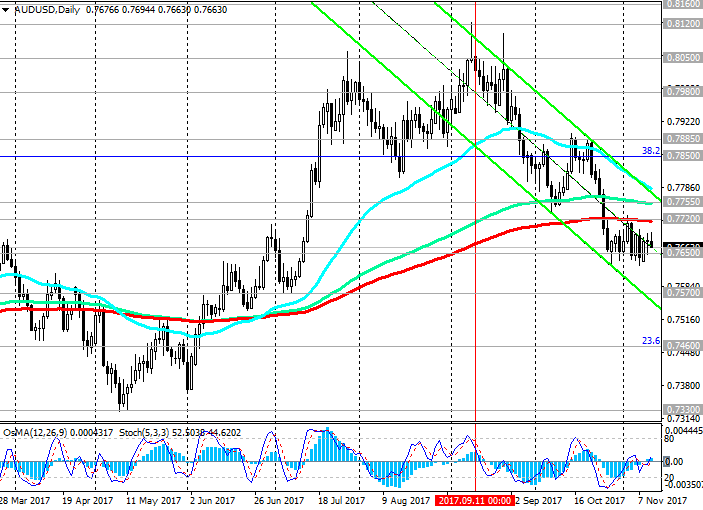 Trading scenarios
Sell in the market. Stop-Loss 0.7710. Take-Profit 0.7600, 0.7570, 0.7500, 0.7460
Buy Stop 0.7710. Stop-Loss 0.7610. Take-Profit 0.7720, 0.7760, 0.7800, 0.7850, 0.7885, 0.7980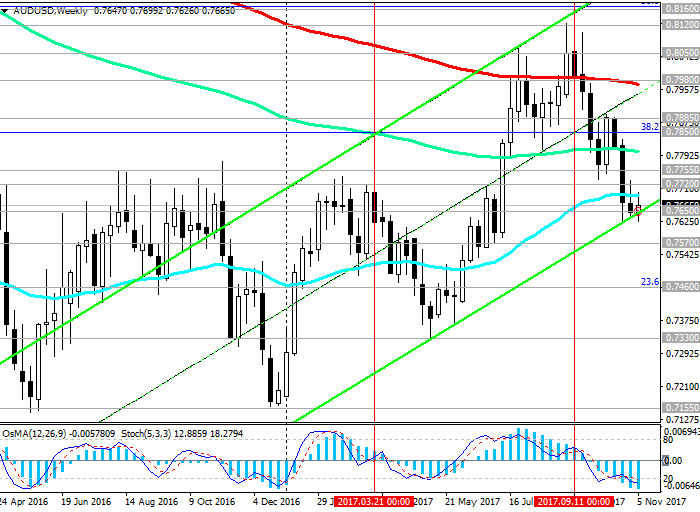 *) For up-to-date and detailed analytics and news on the forex market visit Tifia Forex Broker website tifia.com