Yesterday, the New Zealand dollar received support after New Zealand's finance minister Grant Robertson said he did not want to include targeting of the national currency in the new responsibilities of the Reserve Bank of New Zealand.
As it became known, the new government of New Zealand intends to new evaluate the policy of the RBNZ. At the first stage, changes will be recommended to the RBNZ policy aimed at increasing employment in New Zealand, and changes will be offered regarding the RBNZ leadership. Decisions in the central bank will have to be carried out by the vote of the committee, while the role of the manager will go to the background. Further changes in the RBNZ policy will be discussed with the involvement of independent experts.
It is still not clear how the planned changes in the activities of the RBNZ will affect the quotations of the New Zealand currency. Deputy Prime Minister Winston Peters has already hinted that a weakening of the New Zealand dollar could help the country's exporters.
A survey of business circles conducted last week in the country showed a sharp drop in confidence, and it turned out to be much lower than its average. The last two weeks there has been a recovery of the New Zealand dollar, which became the leader of the fall last month after the results of the general elections in New Zealand, held at the end of September, became known.
Nevertheless, the growth of the NZD/USD is likely to be limited in the face of the strengthening US dollar and, therefore, the decline in commodity prices and the quotations of commodity currencies, which include the New Zealand dollar.
The US dollar continues to strengthen in the foreign exchange market as against the background of positive macroeconomic data coming from the US, and against the background of the appointment of a new Fed governor, who will take office in February next year. According to some economists, under the leadership of the new head of the Fed can raise rates not three, but four times in 2018. It is assumed that at the next meeting, which is scheduled for December 12-13, the interest rate will be increased by 0.25%. In the future, the Fed may raise the rate quarterly, starting in March 2018.
Thus, the fundamental factors testify to the further reduction of the NZD / USD.
From the news for today, we are waiting for the publication of the results of the dairy auction (in the period after 14:00 GMT). Two weeks ago, the price index for dairy products, prepared by Global Dairy Trade, came out with a value of -1% (against the previous value of -2.4%). Dairy products - one of the main exports of New Zealand, therefore, a decline in world prices for dairy products will hurt the quotes of the New Zealand dollar.
*)An advanced fundamental analysis is available on the Tifia Forex Broker website at tifia.com/analytics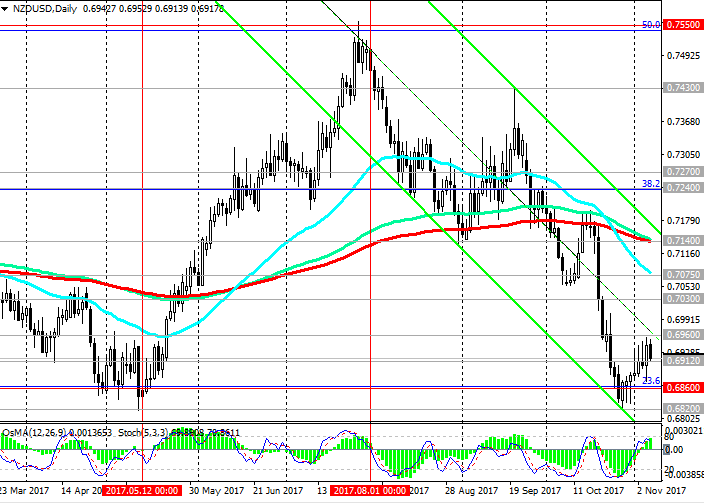 Trading Scenarios
Sell in the market. Stop-Loss 0.6970. Take-Profit 0.6900, 0.6860, 0.6800
Buy Stop 0.6970. Stop-Loss 0.6890. Take-Profit 0.7000, 0.7030, 0.7075, 0.7140, 0.7200, 0.7240, 0.7270
*) For up-to-date and detailed analytics and news on the forex market visit Tifia Forex Broker website tifia.com