Talking Points
-Japanese Yen sells off on anticipation of fiscal stimulus coming from Japan
-GBP/JPY presses into 133.30 area which was a former support level
-Use the Grid Sight Indicator to pin point shifts in intraday momentum to provide clues if resistance will hold
Japan's ruling party secured 70 of 121 seats available in the Upper House this weekend. This opens the door for the Japanese government to launch fiscal stimulus measures, causing the Japanese Yen to sell off.
As a result, pairs such as GBP/JPY gained heartily to begin the week. The strength we've seen to start the week is pushing GBP/JPY into a resistance zone.
On June 23 and June 27 GBPJPY pressed into 133.20-133.30 forming a support level. This level was eventually broken last week on July 5.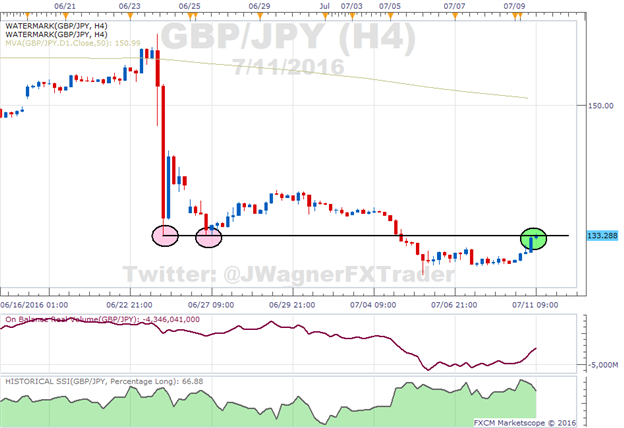 The overnight strength has pushed the pair back into this price zone. We know from technical analysis 101 that former support when broken becomes new resistance. Therefore, the reaction of the pair near 133.30 gives us a clue about the near term trend in GBP/JPY.
If price breaks higher, then the near term trend is up.
If prices breaks lower, then the near term trend remains down.
One tool we can use to help us determine if the resistance level is going to hold is Grid Sight Index (GSI) on 'm3' or 'm5'. Prices are currently pushing into this zone and we can look to see if similar intraday patterns resulted in bullish or bearish outputs.
For those that are not familiar with GSI, it is a big data indicator that analyzes past patterns to see how many match up to the current pattern. It is important to realize that GSI is focused on the past, which doesn't necessarily mean it will transfer the same into the future.
If GSI is forming many blue candles while price is in this resistance zone, then it may foreshadow a break higher.
If GSI is forming many red candles during time spent in the 133.30 resistance zone, then it may foreshadow a return to the down trend.