Crude Oil Target 3 Hit with Chinese Oil Imports Up 38%
Crude Oil, daily

Crude oil price is at the time of writing trading higher with support given to it by the hefty increase in Chinese import numbers, low US oil inventories and fears that Nigerian oil production might attract new attacks from the rebels. Chinese trade data published today showed that crude oil imports to China rose 38.7% in May YoY.

This was the biggest jump in the last six years and increased hopes that the Chinese economy (the world's second-largest oil user) may be stabilizing. Now, that further supply distractions are possible and market participants believe that the oil market is becoming more balanced it prices are supported by the bidders.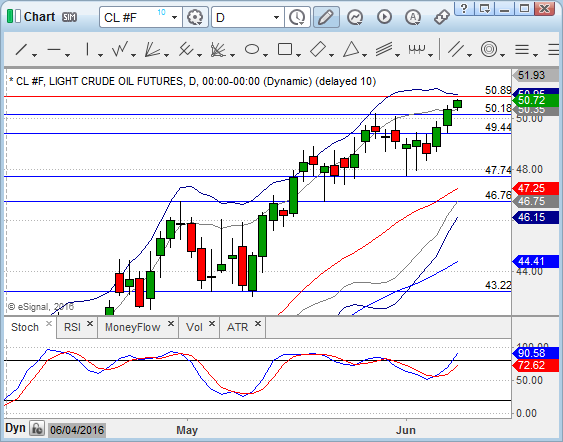 I wrote in my May 5th report that wildfires in Canada's oil sands area and fighting in Libya threatened the North African output and that together with the bullish technical picture we should see the prices moving higher. I gave a buy area ($43.20 – $44.00) together with three targets which have now been met after price first retraced to my buy area. The third target was at $50 to $51 range which is exactly where the market is trading at the time of writing this report.

The $50.89 resistance was able to turn the price lower in October last year and in theory could therefore act as a resistance again. However, the uptrend has been solid with the oil market finally finding (supply – demand) balance supporting higher prices. Also, the US driving months are ahead of us now. American holiday season traditionally increases demand while the Houston oil producer conference participants in May signaled that they will not be adding production before they've seen the price of oil settling in the range of $50 to $60. I'll be looking for buy signals at supports as long as the uptrend is intact. The nearest daily support levels at the moment are at $49.40 and $50.20.