GBP/USD Forecast: Short Term Bullish
The GBP/USD pair filled the weekly opening gap, in a strange early move, as the pair jumped roughly 200 pips mid Asian session, soaring up to 1.4657 and retreating afterwards to the 1.4500 region, only to resume its advance with the European opening. There was no catalyst behind the move, and the calendar in the UK has been light, with the focus still on Brexit polls.
Now trading around 1.4580 the pair has now an intraday bullish bias, as in the 4 hours chart, the technical indicators head sharply higher near overbought levels, whilst the price is back above its 200 EMA, and the 20 SMA turns higher far below the current level.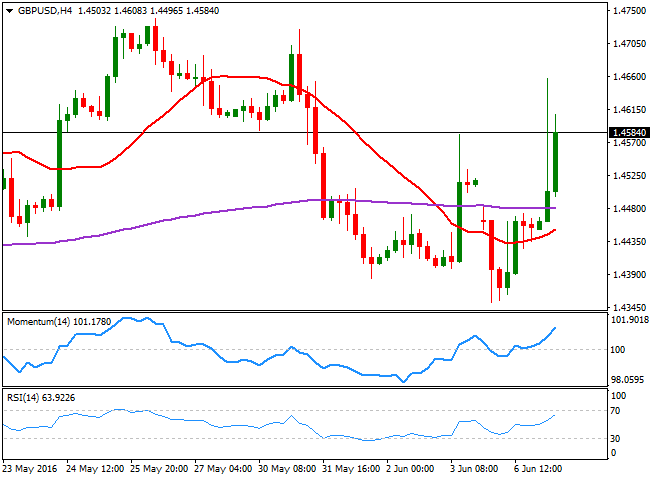 Given the wide intraday range already achieved, seems unlikely the rally can extend to new highs, yet a steady gains beyond 1.4615 should lead to a retest of the daily high, with chances of an extension up to 1.4700 level on a break beyond it.
Below 1.4520 on the other hand, the pair can retreat down to 1.4460/80, where some buying interest is now expected to surge.