Anticipation is building ahead of Thursday's BOJ meeting result, with the JPY weakening sharply this past week in anticipation. A number of wire and newspaper reports in recent days have suggested new measures are under consideration, including possibly further cuts in the BOJ's IOER rate and potentially moving to a negative rate on BOJ bank lending facilities.Our economists' base case remains that the BOJ leaves policy unchanged this week, suggesting the JPY could recover some lost ground (especially if the Fed also stays neutral) (BNP Paribas, eFXNews).
In Technical View, Weekly Bullish engulfing Candle Pattern could be a beginning of bullish trend , with 7.26% below its 5 years technical "Fair Price" (based on 1, 3, and 5 years linear regression trend), its an opportunity for Long position (Ismail, TradingView). One pair that is already at resistance is EUR/JPY, and this could be a tricky one given the past two days of bullishness in the pair, as Yen strength has begun to recede a bit (Stanley, DailyFx). Market caution is still a driver of yen strength but could the BoJ expand negative rates this week? Although technicals are medium term bearish, it could drive near term Euro/Yen back towards 128.00 (R Perry, FxStreet).
Meanwhile, Draghi confirmed that monetary policy in the euro area will remain accommodative. This factor should limit EUR on the upside, However, as long as the Federal Reserve isn't very hawkish (Belugina, FxBazokaa).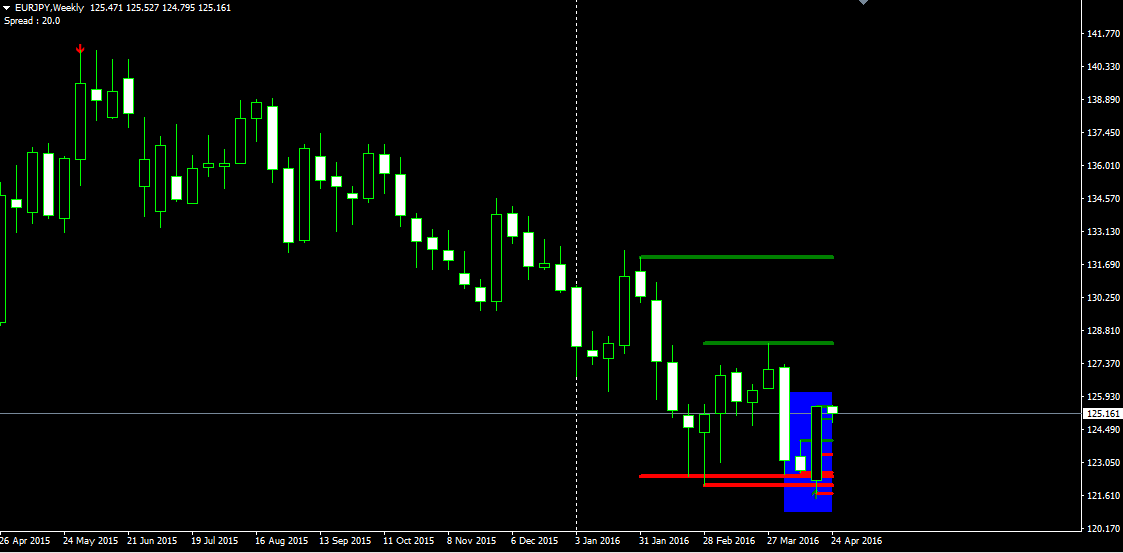 (Picture : EURJPY weekly , bullish engulfing pattern)
Indicators: