XP Forex Trade Manager Grid MT4 - expert for MetaTrader 4
Published by:

Views:

6849

Rating:

Published:

2023.01.09 15:25

Updated:

2023.01.09 15:35
You are missing trading opportunities:

Free trading apps
Over 8,000 signals for copying
Economic news for exploring financial markets

If you do not have an account, please

register
Forex Trade Manager Grid MT4 helps you to managing orders and achieve the goal. You only need to place first order with Take Profit, run EA and set in params profit (pips) you want to get. EA will be managing your positions, as will gather appointed number of pips. It's a strategy for management of manual trades opened on current pair. The strategy adds positions to currently opened trades in a grid management (with chosen distance in pips between trades) - up to 15 trades (or less). First up to 3 trades are managed with individual take profits, after 4th trade the EA close whole grid on common level (break-even). After closing the trade on TP, it can be renewed. Whole cycle can be closed if loss is bigger than allowed risk balance percentage.
Parameters:
"Additional Trade Params":
AddNewTradeAfter – distance in pips from last trade after which trades are added to the grid
"Take Profit"
TakeProfit1Total (number) – total TP in pips required from first position
TakeProfit1Partitive – initial TP in pips for the first position in cycle
TakeProfit1Offset – minimum distance in pips from take profit of last closed first position required to renew this first trade
TakeProfit 2/3 – individual TP in pips for the second/third position in cycle
TakeProfit 4/5/6/…15Total – total TP in pips from all positions in cycle (for 4 or more trades opened)
"TradeParams"
MaxOrders – maximum allowed number of trades in grid
Risk Balance % – maximum allowed loss as percentage of the account balance (closes all opened positions)
Lots – lot size for trades opened by the EA
Slippage – allowed slippage in points
Info:
All parameters for trades and functions are settable in the parameters of the EA. The Forex Trade Manager Grid also display on the chart an information about the profit/loss from current cycle in pips and account currency.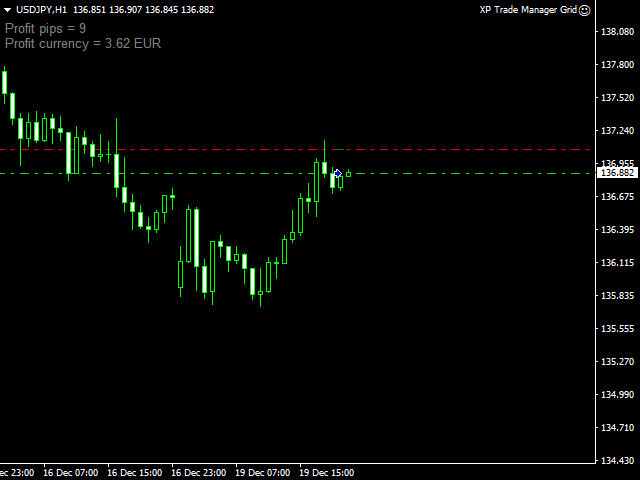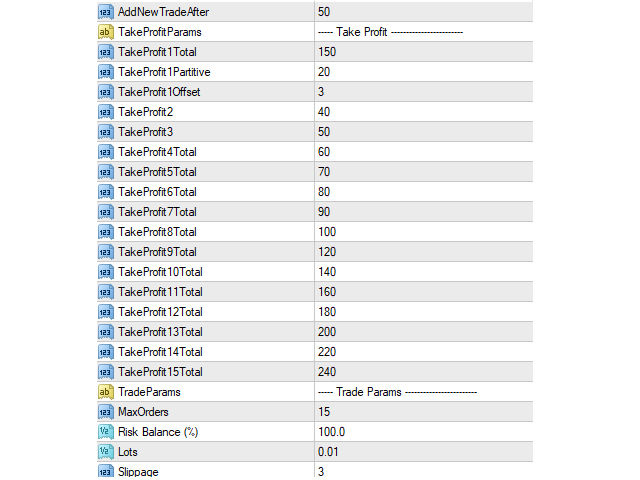 EASY TREND
An indicator to see very easily the trend in a maxminband channel. (You need use Heiken Ashi to see the graph or change the parameter ti put the graph in front of the indicators)

Auto Fibonacci Indicator (Auto Fibos)
- indicator for MetaTrader 4

XP Forex Trade Manager MT4
Forex Trade Manager MT4 simplifies managing open orders in MetaTrader 4.

AK-47 Scalper EA
AK-47 Scalper EA is fully automated. It uses the strategy of entering the sell Stop order continuously and will modifythe order when the price is opposite to the pending order.