Interesting script?
So post a
link
to it -
let others appraise it

MA on Momentum - indicator for MetaTrader 5
Views:

3417

Rating:

votes: 37

Published:

2022.04.26 17:39
You are missing trading opportunities:

Free trading apps
Free Forex VPS for 24 hours
Over 8,000 signals for copying
Economic news for exploring financial markets

If you do not have an account, please

register
The idea of the indicator
Two lines - simple 'Momentum' indicator and 'Momentum' indicator smoothed with 'Moving Average'.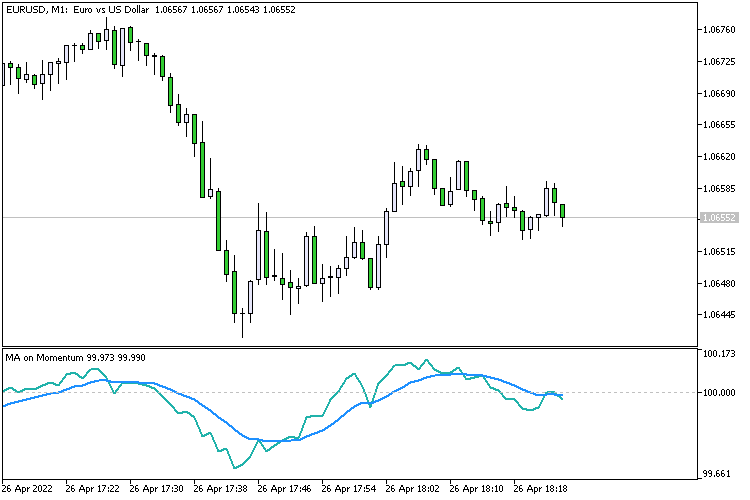 Rice. 1. MA on Momentum
How to trade
We are looking for moments when the indicator lines cross: if the cross is below the '100' level, this is a signal to open a BUY position; if the recalculation is above the '100' level, this is a signal to open a SELL position.

MA on DeMarker Arrow
iDeMarker (DeMarker, DeM) indicator smoothed with iMA (Moving Average, MA).

SmoothStep (generalized)
SmoothStep (generalized)

MA on Momentum Min Profit
Trading strategy based on the custom indicator 'MA on Momentum'

Crossover on the current bar
The color indicator shows in a separate window the moment if the intersection of two iMA (MOving Average, MA) was on the current bar