Virtual Profit Close

With this expert adviser you can control an already existing open position (by another ea or a manual order) and close it by desired profit level virtually. Additionally a trailing stop can be used (not virtual!)
How to use?
Let's say you have an open order on GbpUsd chart by another ea you use with magic number 1234...Now open up an additional chart of same symbol and attach this ea to it, set the corresponding magic number (in this case 1234) it should monitor and set your desired take profit level in pips (1 pip = 10 points). Make sure to set take profit level below initial take profit level for the position if it's present.
Strategy tester
When you test this adviser in strategy tester you can choose what type of order (Buy or SELL) to demonstrate experts purpose
WARNING
This expert adviser does not monitor stop loss in trading mode!
Expert settings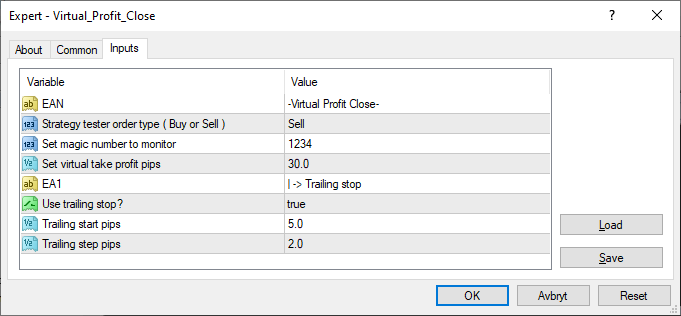 https://cs-robots5.webnode.se/