Interesting script?
So post a
link
to it -
let others appraise it

RSI of average using double smoothed Wilder's EMA - indicator for MetaTrader 5
Views:

5502

Rating:

Published:

2019.01.11 15:02
You are missing trading opportunities:

Free trading apps
Free Forex VPS for 24 hours
Over 8,000 signals for copying
Economic news for exploring financial markets

If you do not have an account, please

register
Theory :
The basic idea of this indicator is described here : RSI - double smoothed Wilder's EMA .This version is extending it to what we all know for quite some time as Rsi(oma) (RSI of moving average). This version can use one of the usual averages instead of using "raw" price (the averages used can be SMA, EMA, SMMA or LWMA) and is applying the double smoothed Wilder's EMA in the RSI calculation itself
Usage :
It can be used as any regular RSI(oma)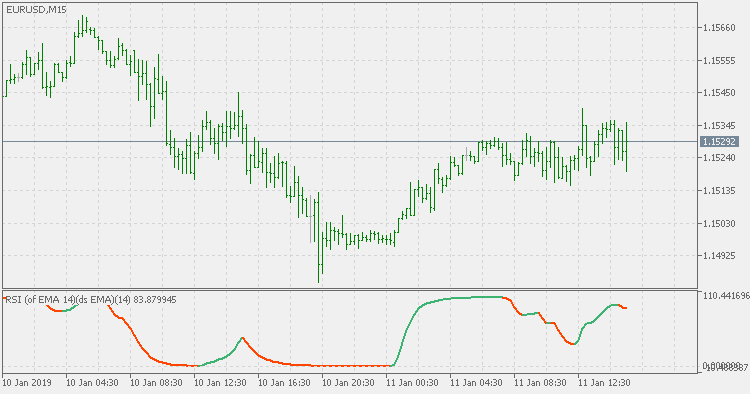 RSI with double smoothed Wilders EMA
RSI with double smoothed Wilders EMA

Simple Server Clock
A very simple, efficient and non-obtrusive clock for your Chart. KISS compliant! :)

Symbol Name On Chart
Pretty simple. Seems Stupid. But yes, You need this...

Time Based Moving Averages
Very handy Multiple Moving Averages for those who like to look at Price Action using several time periods...