The situation on the oil market and the volatility of black gold quotes reflect the overall picture and the situation in the global economy and the financial market. In a relatively normal economic situation and a relatively calm geopolitical situation, with the growth of the dollar, oil quotes are declining.
At the moment, investors are in no hurry to invest in oil market assets, given the turbulent geopolitical situation in the world and the slowdown in the global economy.
As can be seen from the charts showing the dynamics of futures for Brent crude, the price has been trying to break below $93.00 per barrel three times over the past 5 weeks, the lowest level since mid-February.
Also 2 most important long-term support levels 98.00, 95.00 are broken. In case of a breakdown of the local support level at 92.00, the price will deepen inside the downward channel on the weekly chart, heading to its lower border and to the key support levels at 77.50, 73.00, which separate the long-term bullish trend from the bearish one (for more details, see Brent: technical analysis and trading recommendations on 09.08 .2022).
In our main scenario, price growth will resume from current levels. It is possible that now is the right moment to enter long positions and resume buying.
Support levels: 95.00, 94.00, 93.00, 92.00, 90.00, 85.75, 77.50, 73.00
Resistance levels: 97.50, 98.00, 101.50, 102.00, 103.50, 104.00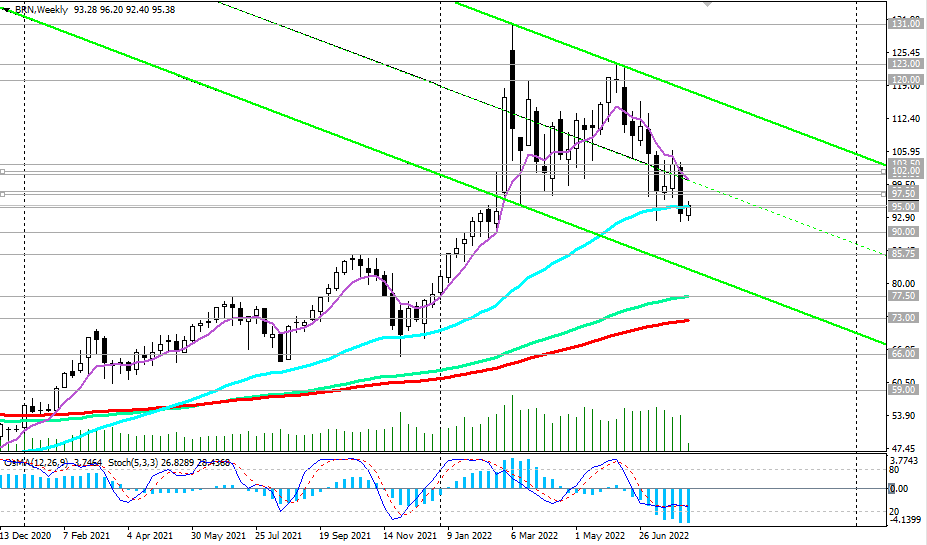 *) Get no deposit StartUp bonus up to 1500.00 USD
Promotion in InstaForex "Happy deposit": do not miss the opportunity to get your $9000. Promotion Terms HERE!
And also - "Bonus 100%" to each client!