Ultimate Support & Resistance

Advanced Support & Resistance Trading Made Easy
Read on to discover about pivots and how they can help your trading.
You will also find details on Pivot Prof which has been delighting customers for years with its rich and easy to use features, and Pivot Prof Scanner, which will help you maximize your time and monitor up to 40 symbols simultaneously across multiple timeframes all from just 1 chart.
Never miss an opportunity again!
PLUS get Pivot Prof Scanner for free - read on for details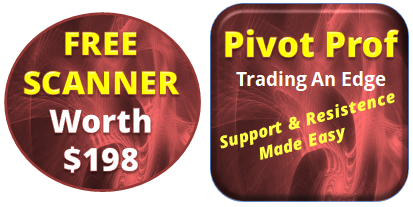 Introduction
Pivot trading has been around for decades and is extensively used by professional and institutional traders to help establish entry and exit points in the markets. It is used across all types of securities from shares, indices and commodities to Forex and precious metals, it truly is a universal tool and is the holy grail of support and resistance.
What Is A Pivot?
In simple terms a pivot is a central price point plus up to four higher levels of resistance and four lower levels of support, which are calculated using the most recent trading range, like daily, to create a set of levels where it is anticipated the price will react in the current trading period.
Pivots can be calculated from any timeframe. Daily, Weekly, Monthly, Quarterly are the main periods used, and clusters of Pivot levels from different timeframes form even stronger signals. Additionally, scalpers can use various intraday pivots if they have the right pivot tool.
A price above the pivot point is often considered bullish and likewise bearish below. In a normal market you would expect that the price will fall mainly between the first level of resistance and support, R1 and S1, and the main pivot point sits in the middle of these two levels.
As price moves further away from the pivot point the more likely a reversal becomes. So, a trader is more likely to exit a long position or open a short position if the price reaches R3 say, than they are of opening a new long position at R3 which represents a potential top of the expected trading range.
Do Pivots Work?
Absolutely, they work because the levels are generated by formulas using the previous trading range and are therefore closely correlated. Pivots do not repaint or lag in anyway, and their extensive use by market traders further helps to ensure the levels are respected.
Pivots correctly calculated can provide clear entry and exit points where price reacts, leading to minimal drawdown and small stops compared to standard indicators. For example look at this chart, the Relative Strength Indicator is signaling a long entry as it has crossed above the 30 level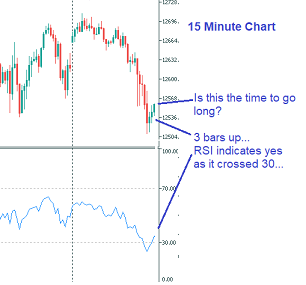 This next chart shows you what happened to that long trade and what the Daily Pivots alone had to offer on the same day.
RSI: Long trade a complete loss, only one other trade opportunity during the day
Daily Pivots: Three accurate winning entries, all with minimal stops. In fact you could also have gone long above D-S1.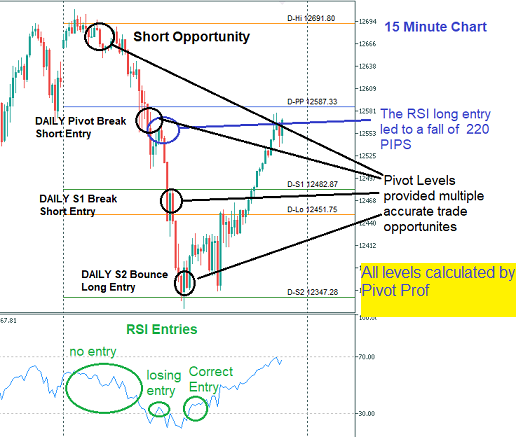 As you can see there is much more opportunity with the pivot levels and very importantly look how little price retraces back over the level once crossed. This clearly shows how price can react to these levels and can provide you with the opportunity for accurate entries with small stops and drawdown.
How Do I Use Pivots?
Pivot Prof will provide the trader with the simultaneous display of pivot levels and more from across multiple timeframes all on one easy to read chart including alerts to phone, email or screen and a fully customizable display. So all the trader then needs to do is decide to enter a trade or not at each level. Traders can use simple price reaction to a level or combine pivots with any other entry method they choose, for example, candlestick patterns, fractals or other indicators of their choice.
The key to working with pivots is to understand that they give you an opportunity to enter and exit trades close to the reaction point and that by trading levels you automatically filer out less predictable entry points.
For example look at this chart:
As you can see Pivot Prof provides a nice easy to read chart that shows only relevant information, and clearly identifies in advance key market levels.
Using Pivot Prof also helps you to identify where your stop loss should go and give it some protection. If you just went long above the Daily Pivot then the best place for your stop is below it and the level will give some protection to your trade.
Stoploss Example:





PIVOT PROF
** Advanced Support & Resistance Trading - Made Easy with Pivot Prof **
With thousands of downloads, this time tested indicator will help you take advantage of trading pivots and give you that extra edge.
Simple, effective trading method

Easy to use, visual trading levels presented on your chart (more than just pivots)
Multiple timeframes all in one place
Popup, Email and Mobile (Push Notification) alerts
Full customization: Colors, Styles, Levels, Display, Calculations, Alerts and Alert Zones
Unique algorithms to tune levels to market hours and not your broker time
Unique display methods to keep your chart clear of irrelevant levels
Levels for Daily, Weekly, Monthly, Quarterly, + 2 Intraday Custom Timeframes
5 formulas to choose from: Standard, Fibonacci, Camarilla, Woodies, DeMark
You can filter with your preferred indicators/method
Full Manual - download from Pivot Prof - Trading An Edge
Compatible with EA development
5 STAR Reviews
Excellent support via support@pivotprof.com

For a limited time get an extra $10 discount




Don't miss out get your copy for MT5 or MT4 now!
PLUS: Get a

FREE SCANNER worth $198

and trade 40 symbols at once!
(limited time offer, details below)
Pivot Prof Scanner
** No More Monitoring Multiple Charts **
With the brand-new Pivot Prof Scanner products, you can now sit back and trade from a single chart whilst the scanner collects all the information from Pivot Prof and presents it to you in a convenient and easy to use manner and consolidates all your alerts.
As with all our products Pivot Prof Scanner has some great easy to use features:
Monitor

up to 40 symbols at once

and give them friendly nicknames.
Controls and consolidates alerts from all scanned symbols
Alerts: audible, visual, email and direct to your mobile
Monitors all chosen timeframes simultaneously
Takes control of the chart to allow you to quickly view any symbol in the scanner
Changes size based on number of symbols and messages configured
Change chart symbol from the scanner and jump straight to the action on an alert
You can move it, minimize it and change the color scheme
Over 20 different alert sounds to choose from
Visual alerts can be configured by color and duration to attract your attention
Uses distributed processing to ensure alerts are real time from all symbols







A scanner is an extremely useful tool, but it will also help a trader control bad habits. Most traders monitor just 2 or 3 symbols because of chart space and ability to keep an eye on things and spot entry/exit points. This often leads to the 'need to trade' scenario where they get bored waiting for the right opportunity and just trade anyway, normally with poor results. A scanner allows you to monitor many more symbols and just focus on each one as it generates an alert, saving you time and effort, and best of all brings you more premium trade opportunities and removes the 'need to trade' issue.


How To Claim a FREE SCANNER worth $198
New and existing owners of Pivot Prof can claim a free scanner by doing the following:
Have purchased a full version of Pivot Prof (at anytime)
Provided a review of Pivot Prof on the product page (click below)
Send an email to support@pivotprof.com as follows:
Subject Line:

Free Scanner MT4 or Free Scanner MT5
Contents:

Your

MQL5 Username + Screen shot of your review and Payment/Purchase from MQL5
5. Once verified a free scanner will be emailed to you
Terms & Conditions:
This offer is subject to availability and maybe withdrawn at anytime.
The free scanner is only available to users that have purchased Pivot Prof or Pivot Prof MT4 and rentals do not qualify

.
Use of the scanner is subject to the User Agreement supplied with the scanner.
The scanner requires a licenced copy of Pivot Prof installed in order to function.



Two Easy Trades showing the power of Pivot Prof levels...