Setup Daily Chart
Indicators: Weis Pip Wave, Weis Wave with Alert (+Speed Index) and No Demand No Supply ( https://www.mql5.com/en/users/takisd/seller)
Our Story on Daily:
1.Where are we? We are at Fib Area which also happens to be Daily Support Level
2. How did get there? Had a hard time getting there , High Dn Volume - Small Pip move and a High Speed Index of 68.8
Our Story on 1HR: notes that buyers are coming in but there are still sellers. As soon as sellers dissapear the Forecast is to go Long.
Confirm with 1HR waves before entrering.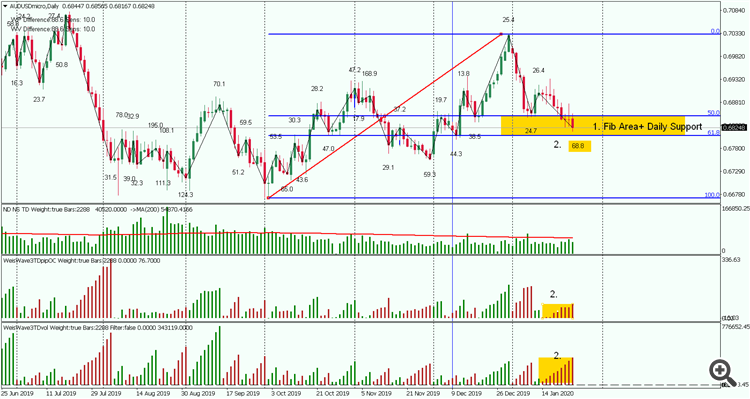 This Forecast did not work out let'see why? As mentioned before we have to confirm with the 1HR waves the reason beeing that the Daily hides the details. There was absolute no buying reaction on the 1HR chart and the price just kept going down. Conclusuion always check lower timeframes 1HR or less. High volume waves without the respectictive Pip Move or High SI's on timeframes such as 4HR or more need to be confirmed with lower timeframes. Many times when the history is not clear even the 1HR has to be confirmed with lower timeframes. Please see below the continuation on the Daily and on the 1HR charts.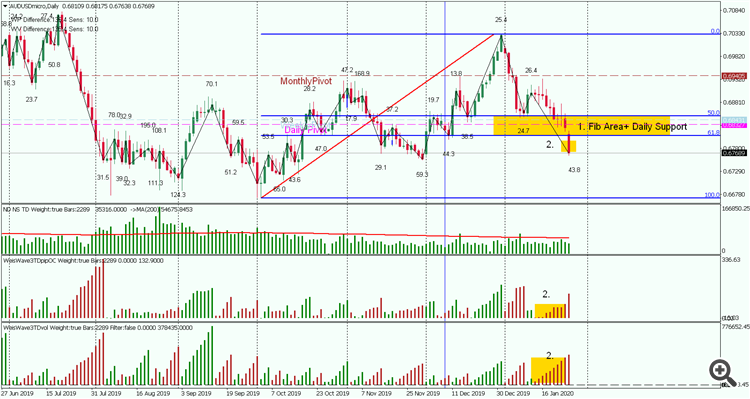 We woke up Monday with a Gap and no buying on the 1HR chart.