CURRENCY STRENGTH OVERVIEW TODAY

Market strong movement in middle timeframes gives many opportunity for scalpers today.
Weak currencies are AUD and NZD.
Strong currencies are CAD.
WE COMBINE and BUY STRONG <<<>>> SELL WEAK
It could be paired to
BUY: ---
SELL: AUDCAD. NZDCAD
Make attention to the picture below. Check currencies and timeframes.
AUDCAD demand zone is already tested and weak. We can wait for a break. Take what you can.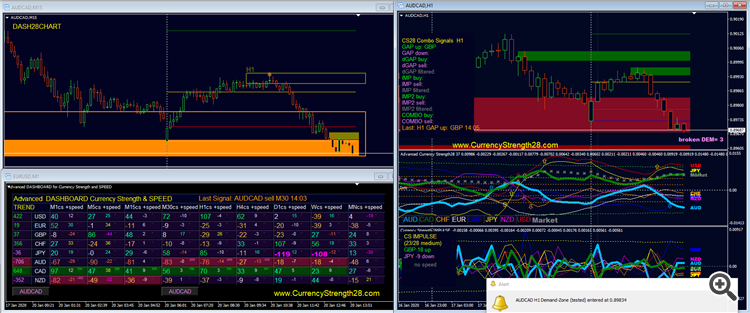 How to read the dashboard:
Currency strength for all timeframes (M1 until Monthly): green/red background: 3 timeframes agree for strong/weak.
Bold numbers yellow and pink, currency for a timeframe is overbought/oversold.
TREND: overall trend rating.


The proven Trading Strategy for Currency Strength "BUY STRONG <<<>>> SELL WEAK" is used. Check out:
28pairs currency strength with impulse trading system
Have questions?
Send me an email on bernhardfxcontact@gmail.com and get the full info.