Despite the data provided by the National Bureau of Statistics (ONS) at the beginning of the European session indicating that the British labor market is in good shape, the pound declined after the publication of the data. Earlier, the GBP / USD reached its highest level in 22 months at 1.4375.
The average hourly earnings of Britons (without premiums) for the period December-February increased by 2.8%, which means that real wages increased by 0.1%. This was the fastest growth rate of wages since 2015. Unemployment fell to 4.2% against 4.3% for the period November-January, the lowest level since 1975. The data indicate that the UK labor market remains healthy.
Probably, the presented data will strengthen expectations that the Bank of England will raise interest rates to 0.75% at its May meeting (May 10). Earlier, the Bank of England signaled that in the coming years it plans to raise rates three or more times to contain inflation.
Despite the current growth, the pound is undervalued, which implies its further possible growth.
In November, the Bank of England raised its key interest rate for the first time in a decade to contain inflation. Recently, central bank officials signaled that the rate may need to be raised earlier than originally expected. This is a strong factor in favor of strengthening the pound.
Nevertheless, there are still a lot of uncertainties in the issue of leaving the UK from the EU, and the Teresa May government is weak, and the Bank of England against this background may postpone the issue of tightening monetary policy.
Today, the focus of traders will be the publication of a block of important macro data for the US at 12:30 (GMT), and between 13:15 and 17:10, several members of the FOMC (Williams, Quorles, Harker, Evans) are scheduled to perform. If they touch upon the subject of the monetary policy of the Fed and speak in favor of faster rates of tightening of the policy of the American central bank, the dollar may strengthen for a short time, including in the GBP / USD. The tougher the rhetoric of their speeches, the stronger the dollar will be strengthened.
*)An advanced fundamental analysis is available on the Tifia Forex Broker website at tifia.com/analytics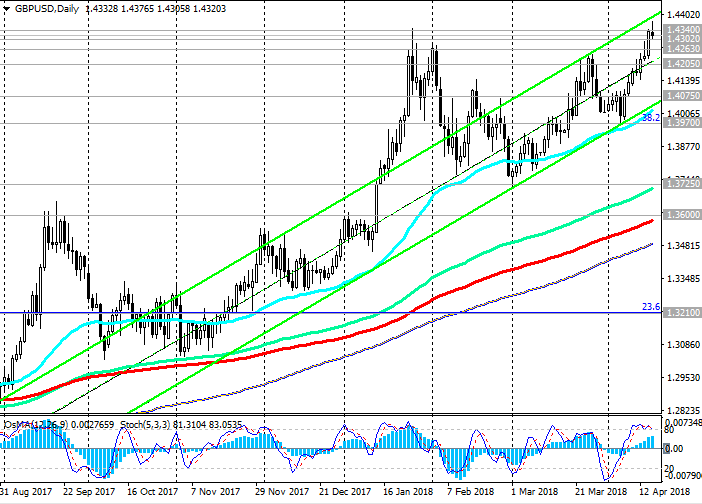 Support levels: 1.4302, 1.4263, 1.4205, 1.4100, 1.4075, 1.3970, 1.3725, 1.3600
Resistance levels: 1.4340, 1.4400, 1.4500, 1.4575, 1.4760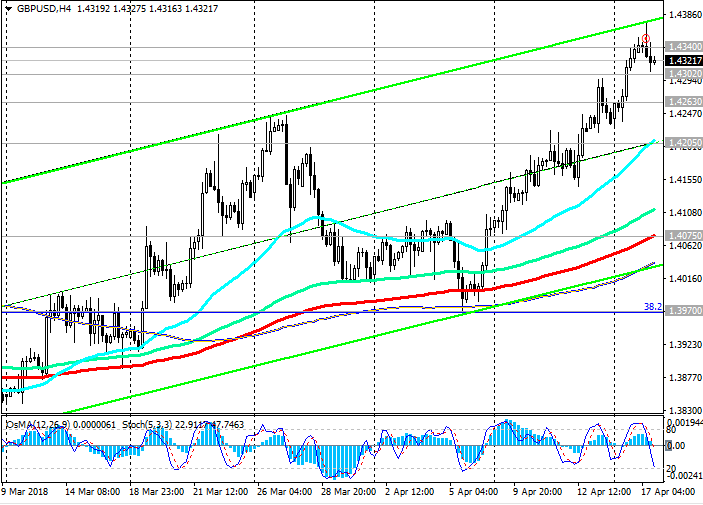 Trading Scenarios
Buy Limit 1.4305, 1.4265. Stop-Loss 1.4225. Take-Profit 1.4340, 1.4400, 1.4500, 1.4575, 1.4760
Buy Stop 1.1.4350. Stop-Loss 1.4285. Take-Profit 1.4400, 1.4500, 1.4575, 1.4760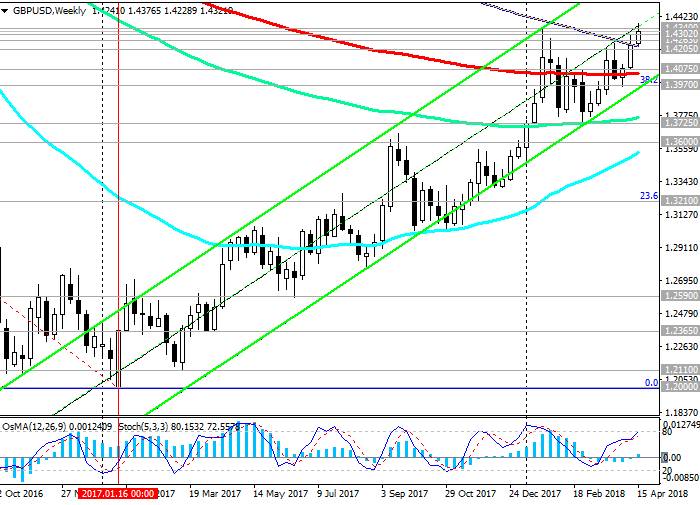 *) For up-to-date and detailed analytics and news on the forex market visit Tifia Forex Broker website tifia.com