As you know, last week the Bank of Canada retained its key rate at the previous level of 1.25%, referring to the growing uncertainty of the prospects for negotiations on the NAFTA (North American Free Trade Agreement). The USA is Canada's largest trading partner. Protectionist measures on the part of the US cause concern among all US trade partners, including in the leadership of Canada and its central bank. Recent US rhetoric increases the likelihood of a negative outcome of the NAFTA negotiations. As you know, the USA introduced 25% of the duty on the import of steel and 10% of the duty on the import of aluminum to the USA from all countries, except Canada and Mexico, the US partners for NAFTA. Import tariffs come into force 15 days after last Thursday, US President Donald Trump signed an order to impose duties. For Canada and Mexico, there is a 30-day delay. If the participating countries (the USA, Canada, Mexico) manage to agree on new conditions for the extension of NAFTA, steel and aluminum tariffs for Canada and Mexico will not be introduced. Otherwise, Trump promised to leave NAFTA.
The US share in Canada's exports is about 75%, which is 20% of Canada's gross domestic product.
The economy of Canada lost 88,000 jobs in January. In addition, the report of the National Bureau of Statistics of Canada, published earlier this month, pointed out that companies' investments could significantly slow down this year.
Last Wednesday, when the meeting was held, the Bank of Canada said that economic prospects are expected to justify higher interest rates over time. However, it is possible that instead of tightening the monetary policy of the Bank of Canada, some monetary easing will be required. This will become especially important if there are difficulties in the mutual trade relations between Canada and the United States. Any disruptions in trade flows between these two countries can have big consequences for the Canadian economy.
Many investors expect that this year the Fed will raise rates four times, rather than three, as the central bank's leaders planned at a meeting in December. If the Federal Reserve receives signals about the intention to speed up the tightening of the policy, it will support the dollar.
While the Fed plans to further tighten monetary policy, the failure of other major world central banks to normalize monetary policy will help strengthen the US dollar.
Today, investors will pay attention to the speech of the head of the Bank of Canada Stephen Poloz, which will begin at 14:30 (GMT). The soft rhetoric of his speech on the monetary policy of the Bank of Canada, as well as the concerns voiced by Poloz about US protectionist actions and the prospects for NAFTA, will further lower the Canadian dollar against the US dollar.
*)An advanced fundamental analysis is available on the Tifia Forex Broker website at tifia.com/analytics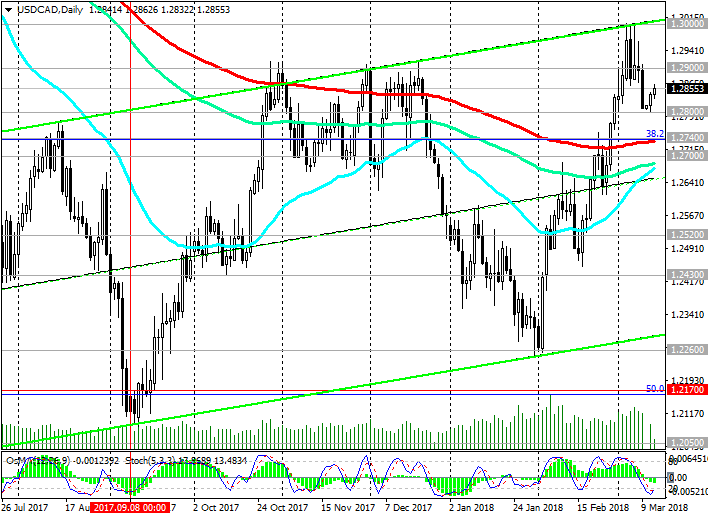 Support levels: 1.2800, 1.2740, 1.2700, 1.2600, 1.2520, 1.2430, 1.2360, 1.2260, 1.2170, 1.2100, 1.2050
Resistance levels: 1.2900, 1.3000, 1.3100
Trading Scenarios
Sell ​​Stop 1.2790. Stop-Loss 1.2870. Take-Profit 1.2740, 1.2700, 1.2600, 1.2520, 1.2430, 1.2360, 1.2260, 1.2170
Buy Stop 1.2870. Stop-Loss 1.2790. Take-Profit 1.2900, 1.3000, 1.3100
*) For up-to-date and detailed analytics and news on the forex market visit Tifia Forex Broker website tifia.com