At the beginning of today's trading day, the dollar continued to rise after on Wednesday (19:00 GMT) the minutes from the January meeting of the Fed were published. From the text of the protocols, investors learned that the leaders of the Fed confirmed their intentions to support plans for further tightening of monetary policy in the US. At the December meeting, when the rate was raised for the third time in 2017, it became known about the Fed's intentions to raise the rate three times in 2018 and make two more increases in 2019.
During the January meeting, the US Federal Open Market Committee voted to maintain the key interest rate range of 1.25% -1.5% unchanged, but market participants expect that in March, when the first rate hike is expected to take place this year, the leaders of the Fed will add another increase in rates to the three planned.
And if this really happens, then the dollar will receive a strong support, despite the fact that there are a number of negative factors of a fundamental nature that cause investors to be wary of the dollar.
Among these negative factors - the growth of the federal budget deficit and the deficit of the foreign trade balance, which in December amounted to a record $ 566 billion, the highest level since 2008.
Meanwhile, at the beginning of the European trading session, the US dollar is once again declining.
To resume the growth of the dollar, additional signals from the Federal Reserve and macro statistics are needed. Important news from US is not expected until the end of the week, but it should pay attention to the publication at 13:30 (GMT) of such an important inflation and macro statistical indicator as the level of retail sales in Canada. According to the forecast, in December retail sales in Canada are expected to grow by 0.2% after growing by 0.2% in November. The index of retail sales is often considered an indicator of consumer confidence. At the same time, retail trade is one of the most important components in filling the country's budget and GDP growth. A weak or negative value of this indicator is a negative factor for the Canadian dollar. If the value of the indicator is worse than the forecast, the Canadian dollar will decrease, including in the pair USD / CAD. And, conversely, an indicator exceeding the forecast value will help strengthen the Canadian dollar.
Also worth paying attention to the speeches of a number of representatives of the Fed, scheduled for 15:00, 17:10, 20:30 (GMT), which may have a short-term effect on the dynamics of the US dollar, and may for a short time cause a rise in volatility in US dollar trading .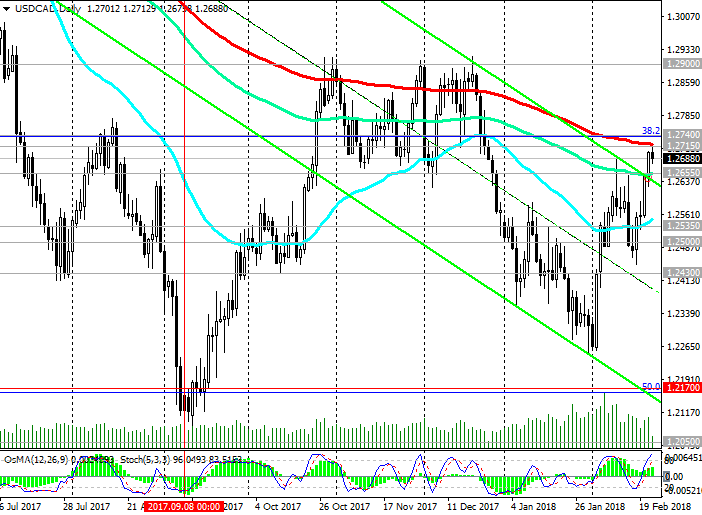 Support levels: 1.2655, 1.2600, 1.2535, 1.2500, 1.2430, 1.2400, 1.2360, 1.2300, 1.2170, 1.2100, 1.2050
Resistance levels: 1.2715, 1.2740, 1.2835, 1.2900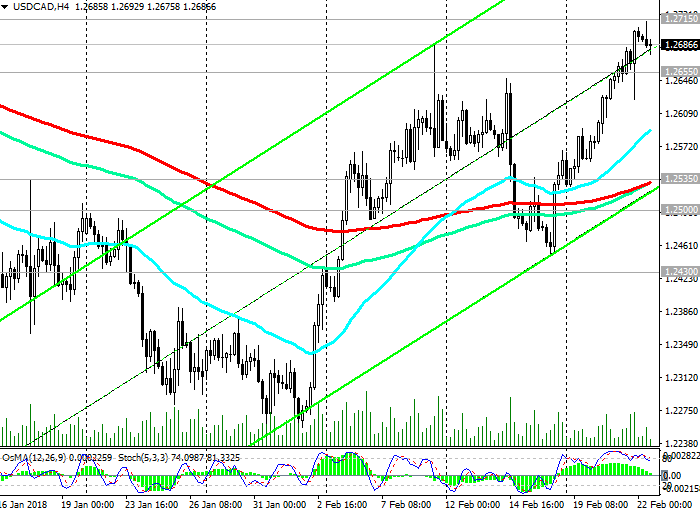 Trading Scenarios
Sell ​​Stop 1.2670. Stop-Loss 1.2720. Take-Profit 1.2655, 1.2600, 1.2535, 1.2500, 1.2430, 1.2400, 1.2360, 1.2300, 1.2170
Buy Stop 1.2720. Stop-Loss 1.2670. Take-Profit 1.2740, 1.2780, 1.2835, 1.2900
*) For up-to-date and detailed analytics and news on the forex market visit Tifia Forex Broker website tifia.com