Good afternoon.
Soon there will be an output of the indicator, made on technology of trade by "baskets" of currency pairs. This indicator is called UniWPR. It is designed according to the principles in
this article
.
In the meantime, I'm laying out two open-source scripts for MT4 and MT5. The scripts check the presence of the main 28 currency pairs in the "Market Watch" window. These 28 pairs will be necessary for the terminal to work with the new indicator.
Scripts have two input parameters:
1. Prefix.
2. Suffix.
These are important parameters that describe changes in the names of pairs. For example, if in the terminal the pair "EURUSD" is displayed as "EURUSD.ch", then Suffix = ".ch". If the pair is called "##.EURUSD.z", then Prefix = "##." and Suffix = ".z".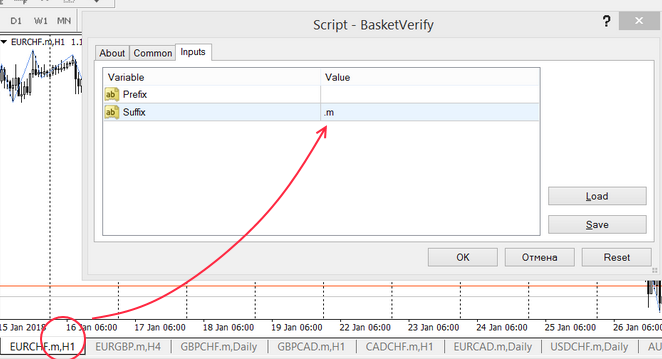 I'll try to answer all the questions.
P.S.
UniWPR for MT4 here.
UniWPR for MT5 here.