In the focus of attention of traders yesterday was the meeting and the decision of the Fed on the rate, which was published at 19:00 (GMT). As it was already known, the rate was raised by a quarter of a percentage point, to the range of 1.25% -1.50%, for the third time in 2017. The Fed kept the forecast, according to which it is planned to raise rates three times in the next year.
Nevertheless, despite the improved estimates of economic growth and the potential economic incentives expected from the upcoming tax reform in the US, as well as the clearly stated position of the Fed on further tightening of monetary policy, the dollar has declined.
Today, during the Asian session, the dollar's decline continued. Today, market participants will focus on meetings of the two largest world central banks - the Bank of England and the ECB. Decisions on rates in the UK and the Eurozone will be published at 12:00, 12:45 (GMT), respectively.
At 13:30, the ECB press conference will begin. In his speech, the head of the ECB Mario Draghi will give explanations regarding the decision taken, and also, probably, answer questions about the QE program in the Eurozone. Most likely, Mario Drago confirms the propensity to continue the extra soft monetary policy of the ECB, which will negatively affect the euro.
Meanwhile, at 08:30 (GMT) the decision of the Swiss National Bank on interest rates was published.
As expected, the Swiss National Bank left the deposit rate at the level of -0.75% and left without changing the range for the 3-month LIBOR rate, between -1.25% and -0.25%. According to the NBS, the overvaluation of the franc "continues to decrease", but "the Swiss National Bank continues to consider the necessary negative interest rate and is ready to interference in the foreign exchange market, if the situation requires it".
The Swiss franc has reacted with a decrease in the NBS decision, including against the dollar, which at the beginning of the European session is attempting to recover after yesterday's decline.
Of the news for today, also waiting for macro data on the US (preliminary values for December), the publication of which is scheduled for 14:45 (GMT). PMIs will be published in the most important sectors of the US economy (in the services sector and in the manufacturing sector). The growth of indicators is expected, which should support the dollar.
If the PMI indices come out with values worse than the forecast, then the dollar's decline will resume.
*)An advanced fundamental analysis is available on the Tifia Forex Broker website at tifia.com/analytics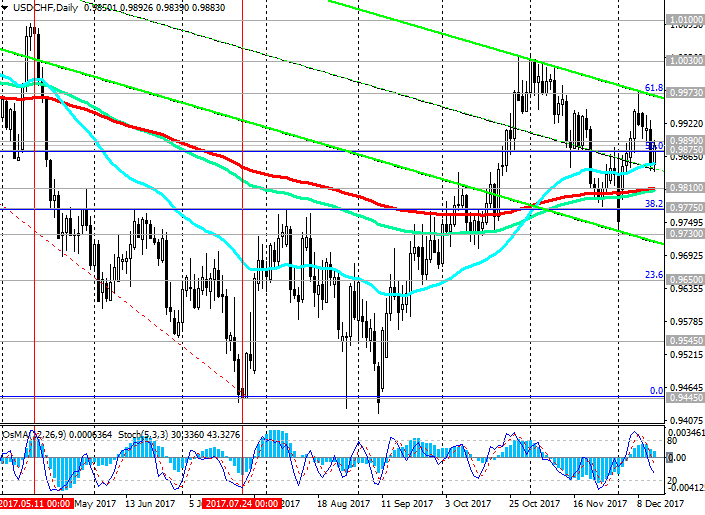 Support levels: 0.9875, 0.9810, 0.9775, 0.9730, 0.9700, 0.9650, 0.9635, 0.9600, 0.9545, 0.9500, 0.9445
Resistance levels: 0.9890, 0.9900, 0.9973, 1.0000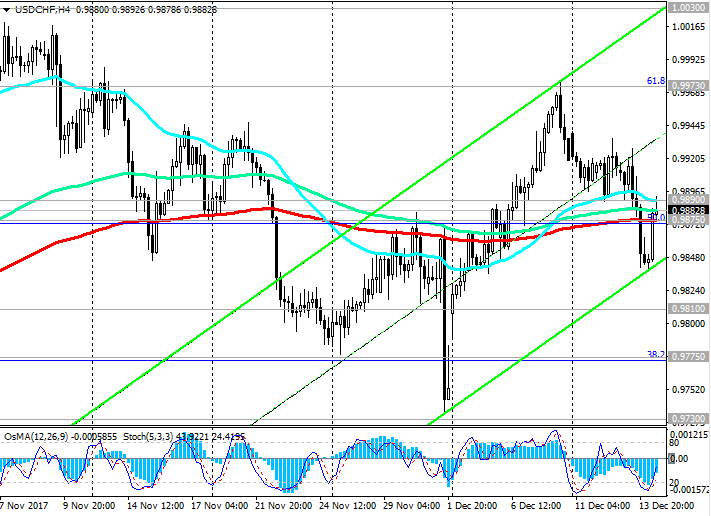 Trading Scenarios
Buy in the market. Stop-Loss 0.9865. Take-Profit 0.9900, 0.9973, 1.0000
Sell Stop 0.9865. Stop-Loss 0.9910. Take-Profit 0.9810, 0.9775, 0.9730, 0.9700, 0.9650, 0.9635, 0.9600, 0.9545, 0.9500
*) For up-to-date and detailed analytics and news on the forex market visit Tifia Forex Broker website tifia.com