After the publication of data on the New Zealand labor market for the 3rd quarter, the New Zealand currency sharply increased in price during today's Asian session. According to the Bureau of Statistics of New Zealand, the unemployment rate in New Zealand fell again in the third quarter, reaching 4.6% compared with 4.8% in the second quarter. Thus, unemployment in the 3rd quarter fell to the lowest level since the global financial crisis.
Nevertheless, the growth of the NZD / USD pair is likely to be limited in the face of the strengthening US dollar.
Today (at 18:00 GMT) is expected to publish the decision of the Federal Reserve on rates. Most economists believe that the rate will be left at the current level of 1.25%. Attention of investors will be focused on the text of the press release from this meeting of the Fed.
*)An advanced fundamental analysis is available on the Tifia Forex Broker website at tifia.com/analytics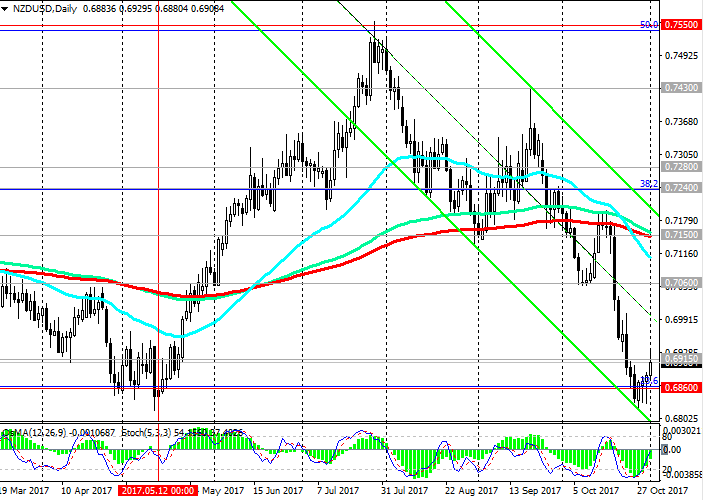 Support and resistance levels
As a result of the active decline at the end of last month the NZD/USD again reached an important support level of 0.6860 (Fibonacci level of 23.6% and the lower limit of the range between 0.7550 and 0.6860).
Nevertheless, attempted breakdown of this level has not yet been crowned with success. On strong data from the New Zealand labor market for 3Q, published yesterday at the end of the trading day, the New Zealand dollar strengthened, and the NZD / USD pair was able to grow to a short-term resistance level of 0.6915 (EMA200 on the 1-hour chart).
The upward correction may extend to the resistance level of 0.7060 (EMA200 on the 4-hour chart) if the results of the Fed meeting or the choice of a new Fed governor will surprise and the US dollar will weaken on this information.
Only a return to the zone above the resistance levels of 0.7240 (the Fibonacci level of 38.2% of the upward correction to the global wave of decline of the pair from the level of 0.8800, which began in July 2014, here are the minimums of December 2016), 0.7280 (EMA200 on the weekly chart) will signal on the resumption of the medium-term upward dynamics.
So far, strong downward dynamics are prevailing.
Confirmed breakdown of the support level of 0.6860 will mean the end of the upward correction, which began in September 2015, and a return to the global downtrend.
So far, strong downward dynamics are prevailing.
Support levels: 0.6900, 0.6860, 0.6800
Resistance levels: 0.6980, 0.7060, 0.7150, 0.7200, 0.7240, 0.7280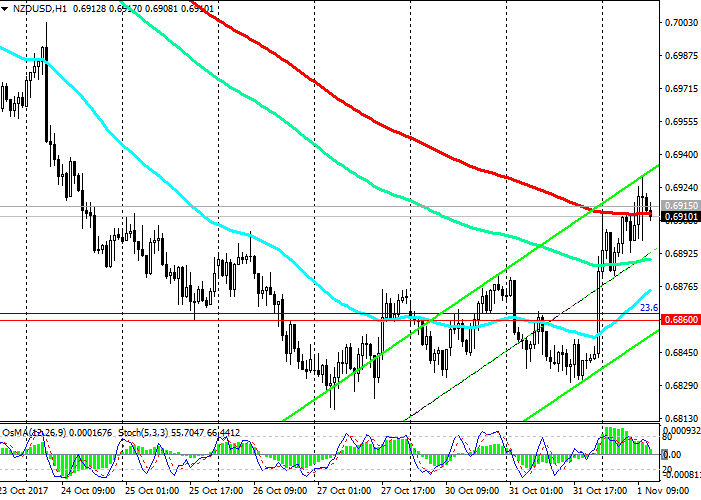 Trading Scenarios
Sell in the market. Stop-Loss 0.6940. Take-Profit 0.6900, 0.6860, 0.6800
Buy Stop 0.6940. Stop-Loss 0.6890. Take-Profit 0.7000, 0.7060, 0.7100, 0.7150, 0.7200, 0.7240, 0.7280
*) For up-to-date and detailed analytics and news on the forex market visit Tifia Forex Broker website tifia.com