Today, the Bank of Japan has decided not to change the current monetary policy and to maintain the key rate on deposits - at the level of -0.1%. The yen reacted quite restrainedly to this decision, which was, in general, the expected investors. Bank of Japan Governor Haruhiko Kuroda said at a press conference that the bank will adhere to its plan of buying shares. "At the moment I do not think that it is necessary to change anything in the policy of managing the yield curve", Kuroda said.
For the second month in a row, the USD/JPY is developing an upward trend. A strong positive momentum continues to push the USD/JPY up to the upper boundary of the range between the levels of 108.10 and 114.40.
Today, the pair USD / JPY is trading in the upward short-term channel on the 4-hour chart, near the support level of 113.10 (the top line of the descending channel on the weekly chart, as well as the Fibonacci level of the 50% correction to the pair growth since August last year and the level of 99.90).
The signal to open short positions will be the break of the short-term support level of 112.45 (EMA200 and the bottom line of the uplink on the 4-hour chart). The goal of corrective decline is the key support level of 111.45 (EMA200, EMA144 on the daily chart, EMA50 on the weekly chart).
Nevertheless, while the USD/JPY is trading above the level of 111.45, its positive medium-term dynamics remains. In case of breakdown of the resistance level of 114.40 (October highs and the upper line of the range formed between the levels 114.40, 108.10), the target of the growth will be the level of resistance 116.00 (Fibonacci level 61.8%).
*)An advanced fundamental analysis is available on the Tifia Forex Broker website at tifia.com/analytics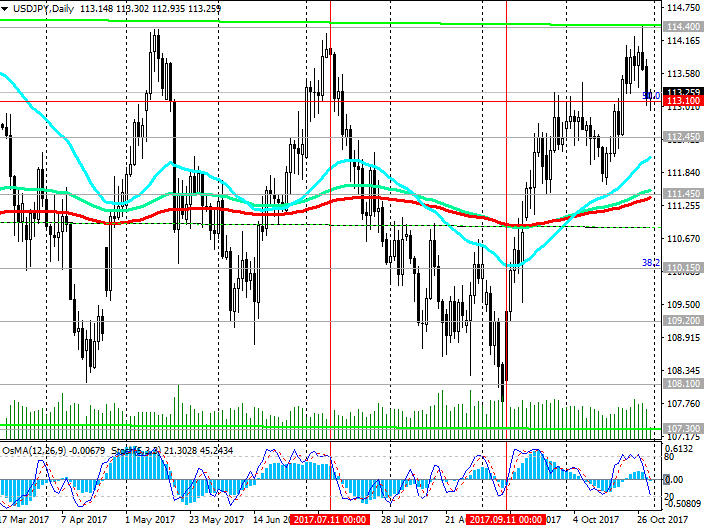 Support levels: 113.10, 112.45, 112.00, 111.45, 111.00, 110.15, 110.00, 109.20, 108.10, 107.30, 107.00, 106.50, 105.00
Resistance levels: 114.00, 114.40, 115.00, 116.00
Trading Scenarios
Buy in the market. Stop Loss 112.90. Take-Profit 114.00, 114.40, 115.00, 116.00
Sell Stop 112.90. Stop Loss 113.40. Take-Profit 112.45, 112.00, 111.45, 111.00, 110.15, 110.00, 109.20, 108.10, 107.30, 107.00, 106.50, 105.00
*) For up-to-date and detailed analytics and news on the forex market visit Tifia Forex Broker website tifia.com