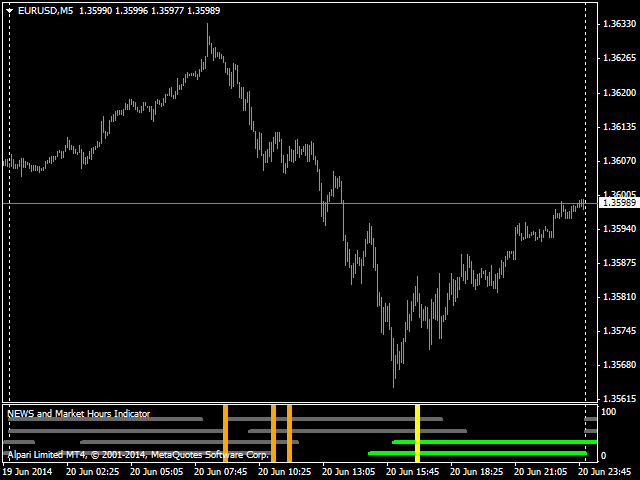 Note: ForexNEWSandMarketHoursBar and FFNewsUpdater Published
You can download and test them.

Introduction
"Forex NEWS and Market Hours Bar" is an indicator that draw News bars and market session bars in your chart. By this tool, trader can easily see time of important News, start and end of market session that knows of this information is very important for a trader.
At the new version of this indicator, user can set the parameters of indicator for play sound (sound files can select by user) at the NEWS times and start and end of market session times separately.
User can also set parameters until indicator send email or notification of News times or start and end of market session times for mention.
For knowing more about parameters of this indicator see the product page on the MQL5 site: https://www.mql5.com/en/market/product/5307
As this indicator work to an expert and can not do correctly single (you must install one indicator and an expert for this purpose), some user have problem to installation of this indicator and even at the first step for testing and checking before buy this product. Hereto in this text I want to describe how to test, check, install and use this indicator on you Metatrader4.
Why two part for an indicator need?
This indicator gets News data from Forexfactory.com that is one of the best websites in Forex News sites. For this job indicator must use WebRequest function that is not useable in indicator and only useable in expert and script. I decided to make an expert for this job that cooperateing with indicator. When indicator need to new data send request to expert and expert download new data for indicator.It is very friendly!
Prepare Installation files
According to the previous description, you must download two softwares, one indicator (ForexNEWSandMarketHoursBar) and other expert (FFNewsUpdater) from MQL5 shop page link: https://www.mql5.com/en/market/product/5310
Please note that expert is free of charge.
If you download only indicator and install it on your MT4, you can only see market session time bars and it can not show any News time bars. If you download FFNewsUpdater expert and install it but the indicator do not show News time bars, it is relate to the expert setting that not install correctly. Then keep in mind that for complete installation you must to have two softwares and install both correctly until you can use all of capability of this powerful and nice indicator.
Install FFNewsUpdater expert and setting parameters
You can install expert to current chart that installed indicator on this or every chart of any pairs with any Timeframe. It is mean the pairs and timeframe is not important for expert and it can work any place but it is important that the setting of expert must be similar to this picture.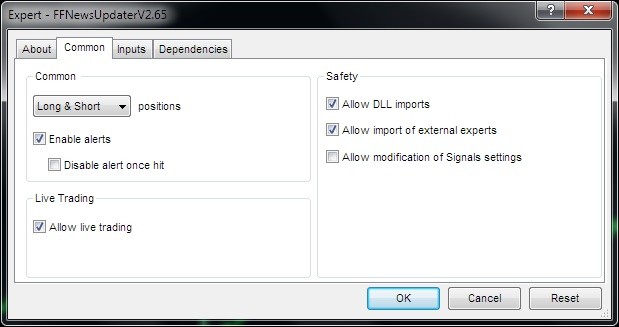 Expert setting window - Common tab
The expert can be any chart, can easily connect to all indicators added to charts and prepare data for all indicators. The expert has not any parameter in version 2.64 and less than it but there are some parameters in version 2.65 and higher that must have been setting for special purpose. Of course these parameters relate to backtest of indicator that describe to the next part and at this part do not need to set any parameters. Only it is enough that set parameters similar to this picture: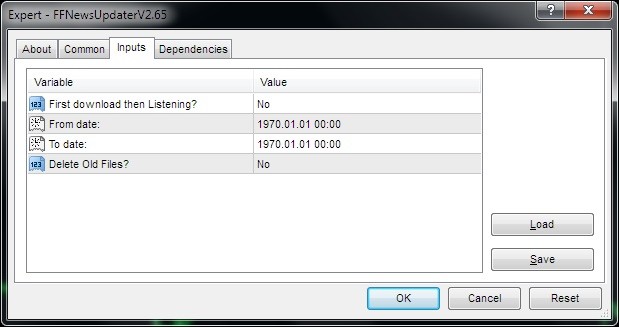 Expert setting window - Inputs tab
Every program (script or expert that use WebRequest function) can not access to any internet amd websites address in Metatrader4 and for this puprpos you must define for MT4 that which website is secure until it can permit to program to connect through WebRequest function. For do this settings select Tools menu and then Options (Tools -> Options) and then select "Expert Advisors" tab. At this window set "Allow WebRequest for listed URL" and add "http://www.forexfactory.com/calendar.php" address to the list. You can see this setting at the below picture.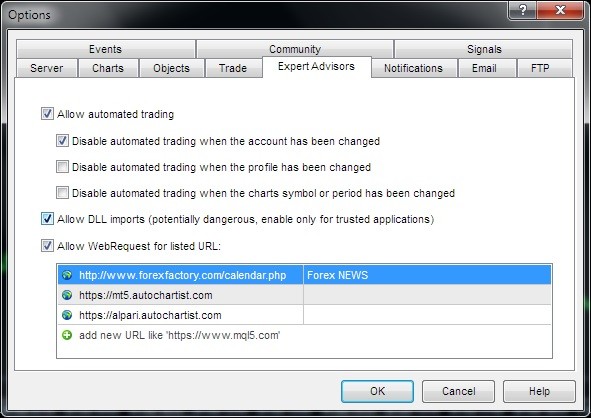 Allow WebRequest for listed URL item in Expert Advisor Option window
In the last step you must enable "Auto Trading" key on tool bar or press Ctrl+E until expert be active and smile icon appear on the right upper side of chart.
Enable Expert key and smile icon picture
Now the expert is in listening mode and waiting until one of indicators that install on other chart, send for it an order. Congratulation! You cold pass over than 60 percent of installation correctly.
For more detail about parameters description refers to this expert page: https://www.mql5.com/en/market/product/5310
Install ForexNEWSandMarketHoursBar indicator
You have two selections for this indicator from MQL5 market place, you can buy this indicator or download demo for check and testing before buying it. If you buy this indicator, you can find it in the Market folder of Indicators folder of Navigator window and can install to any chart that you need.
This indicator has suitable parameters that you can by setting those, making it like you expect.
For more detail about parameters description refer to this indicator page: https://www.mql5.com/en/market/product/5307
Also you can see this indicator alarm action when market is at the start of market session time and start of news below:
Indicator when play alarm in start of market session
Indicator when play alarm in important News time
Testing ForexNEWSandMarketHoursBar indicator
For this part most of trader have problem because they have not enough information about setting of this indicator and expert and most of the times unfortunately their try encounter to failure.
Please consider that the expert must running on a chart when you try to test indicator and if the expert do not exist on a chart or not enable and active, the indicator show only market sessions.
And important note is that you must consider in weekend holiday (Saturday and Sunday) the expert can not work even it install and setting correctly because there is not any tick from server and at this case expert can only run once and will stop!
But what is solution?
The FFNewsUpdater expert version 2.65 and higher you can test indicator in workdays and weekend holiday and in the lower versio of 2.65, you can test indicator in workdays only.
In workdays you can test this indicator very simple, install free expert FFNewsUpdater on a chart that I describe in upper part of this document and test indicator on Tester window. Note when expert download from Forexfactory.com the MT4 software witting some second and then show the data on indicator. This is natural in testing except of this case the indicator work without any delay on normal use.
For weekend days the testing process is deffer and simple. You must command to expert until prepare data for your testing before you start testing. You may ask how I do this. And reply is, very simple go to the chart that install expert and right click on the free space of chart and select "Expert Advisor " and when appear sub menu select properties. Of course by pressing F7 function key, the window will appear.
When the expert properties window appear such as this: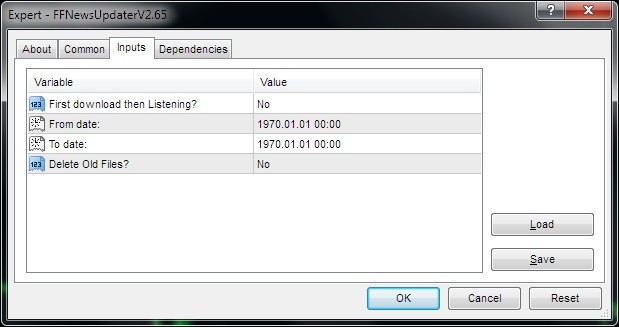 Expert setting window - Inputs tab
You must set first question to "Yes". By this setting expert start downloading data from site and then go to listening mode while if this parameter set "No", expert directly go to the silent mode without do any work. In parameter "From date:" and "To date:" you must enter the scope of date you need to testing indicator and last parameter "Delete Old Files?" can set to Yes or No and not important. It is relate to data file that are not complete and when you set this parameter to yes expert delete these files before start downloading.
When you click "Ok" key bottom expert download all files from Forexfactory.com for indicator. The result message of this action will show on the Expert tab of Terminal window.
Now you can return to the test window and test indicator that show News time bars and Market session time bars similar to this:
Indicator in tester mode movie
Different usage of indicator for back test on offline chart
May be you need to study behavior of a pairs on a define date. For this job you can download data by expert and open an offline chart and drop indicator on your chart when go to special date and see result. If the indicator have not any bars for show you must set "How many Days show?" parameter of indicator to higher number until indicator can draw bars on special date.
If you think the news bar and movement of price have any differ, It is related to "server time zone" parameter that not correct.
And at the end of this Guide
I hope this text has been useful for all traders and byers.
Best Regards,

Aliakbar Kavosi