The Trailing Stop expert advisor has been created to help traders manage winning trades and baskets of trades, by trailing the price once it goes in the trader's favor. The main idea that led to this trailing stop EA was that many traders are not so good at managing winning trades. While sooner or later every trader learns how to spot the trend, when to enter a trade, what forex news to trade and so on, many traders are closing winning trades to soon or to late.
The RobotFX Trailing Stop expert advisor will eliminate those frustrating situations when you close a trade earlier than you should and the price continues to go in your favor, or when you wait for to long and the price reverses, so your winning trade becomes a losing trade.
The expert advisor trails the price using various methods:
After a number of pips or points (the classic trailing method)
At the last candlestick's end (+ a buffer in points)
Trails using Metatrader's indicators: MA (moving average), PSAR (parabolic stop and reverse), fractals, ATR (average true range)
Trails using a percentage of the profit
It is important to specify that the trader has the ability to change (within the expert advisor's settings) the indicators values as well as the timeframe they are applied to. Also, that the expert advisor can trail multiple trades (basket) of the same kind.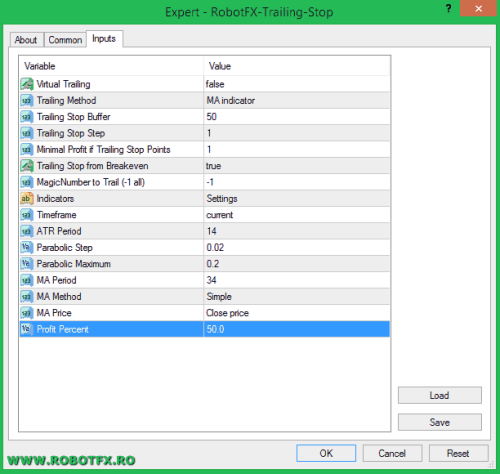 How the RobotFX Trailing Stop EA works