It's been almost a month since I gave my own views on the Brexit saga so has anything changed?
If you want to catch up, this was my post a month ago, just detailing how I saw things then.
In the weeks that have passed under the bridge since then, I'm still waiting for one decent argument to be presented by either side. I'm saddened and dismayed about what the furore around the whole thing has possibly led to with the death of Jo Cox, and I'm highly pissed off with the people in charge who have led us to that point. If this was a vote to kick the whole sorry bunch of them out of Parliament I'd be camping outside the polling station now in my eagerness to vote. I'm sick to the back teeth of it all and can't wait for it to be over, and I know I'm not the only one.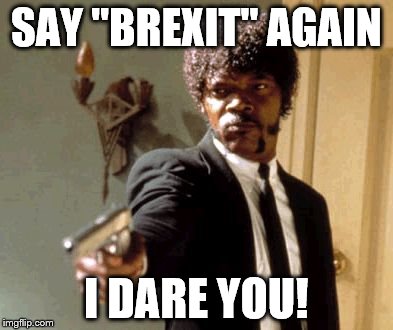 I was out with a group of people Saturday from all walks of life form City workers, NHS workers, sparkies, retirees, a real broad range. Some were friends and others were people I'd never met. I did a straw poll on Brexit and leavers won 9 to 6 with 4 undecided. The reasons given for choice of vote varied but everyone agreed that they didn't really understand what consequences would come from their vote. They were all as much in the dark as I was and hadn't found any reasoned arguments to change or enforce their views. Some, like my mates who work for large city firms have been told in no uncertain terms that if they vote to leave they'd better be prepared to move to Dublin or Frankfurt if the leave vote carries. That's if they still have a job at all. Threats like that have to be thought about carefully when you've got a family to look after because remember, not everyone who works in London's square mile is a £200k per year banker.
The conversations highlighted the complete shambles this vote is and the shambolic way it's been run by the campaigners. I've come through crashes, recessions, general elections and everything else that's usually thrown at a population but I've never been witness to or personally involved in something like this. My conclusion stands that absolutely no one knows what's going to happen if we leave and that the best guesses and estimations are just numbers plucked out of the air.
So, not much has changed since May 22nd, save for the fact I'm a few levels higher on the grumpy scale, and that's pushed my appetite to trade even further down. That's probably been the most shocking outcome as usually I'm pretty good at dealing with my emotions when it comes to trading, and indeed separating my emotions from trading. My presentation on the upcoming ACT course deals a lot with the emotional side of trading but I'm worried that I'm not it the best of places because of this Brexit stuff to give a lesson on emotion. I think I need to go over my presentation in the hopes I give my self a lesson to correct myself.
I do see some light at the end of the tunnel as my trading radar is never fully switched off or quelled. While I've had no interest in getting involved in these day to day moves, the way the market bias has been tilting over the last few days has me thinking that a vote to stay will bring a pop that's worth shorting. I still feel that a stay vote will have the shorter reaction in the market than a leave vote so I'm expecting possible a day or two of a relief rally that I'll find some levels to short into, because as I said earlier, staying in just puts us back to where we already are and the UK fundamentals that have been ignored will be front a centre once more.