Flows. Speculators have continued to unwind long USD bets and are less short EUR now; this increases the sensitivity of the cross to any impetus from relative rates.
Valuation. Both our PPP and MEVA model suggest the mid 1.20s are 'fundamentally' justified and thus that the cross remains undervalued.
Return of relative rates on a 1-3M horizon
Relative rates have recently moved in favour of a stronger EUR/USD as markets have questioned a continued ECB-Fed divide. That said, our short-term financial model for the cross suggests the move higher is not entirely warranted by orthodox factors such as rates.
Copy signals, Trade and Earn $ on Forex4you - https://www.share4you.com/en/?affid=0fd9105
Also, speculators have continued to liquidate long USD bets on a massive scale, and a good deal of EUR shorts have been covered. This leaves overall EUR/USD positioning much less stretched short than at the start of the year, which arguably could imply a greater sensitivity of EUR/USD to adverse moves in relative rates.
− Coupled with the easing pressure that the drop in market inflation expectations exerts on the ECB
– and the opposite taking place in the case of the US and the Fed – there is room for rates to send EUR/USD down in 1-3M.
The key risk factor remains a Brexit
− While GBP markets have priced in a significant Brexit risk premium lately, EUR/USD seems largely unaffected – for now.
− In the event of a Brexit (not our base case) EUR crosses will likely be dragged down short term by the political and economic uncertainty this would generate and the fact that the ECB would most certainly need to ease in this case. We see the cross below 1.10 in this case.
− However, ECB would likely use QE rather than rates, which should dampen the EUR-negative impact.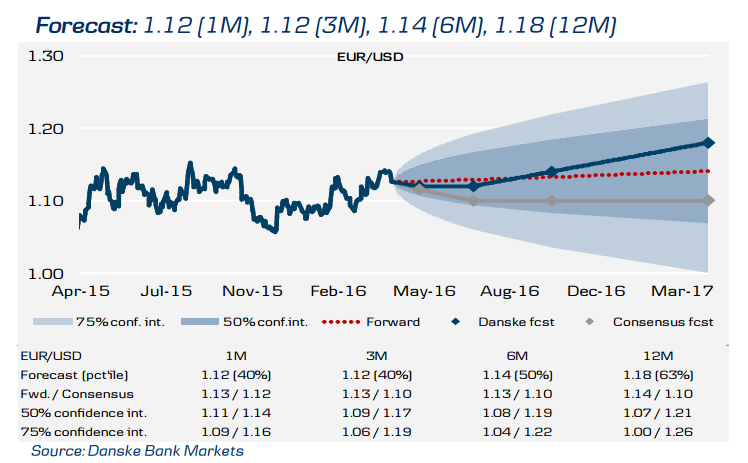 Conclusion & Forecasts
EUR/USD has bought into fading ECB-Fed policy divergence after the ECB largely gave up the fight for euro depreciation and following recent dovish Fed comments. With positioning now much lighter in terms of short EUR/USD bets, we are probably entering a period in which relative rates could increasingly play a role again, and with a mere 50/50 pricing of a September Fed hike, and the ECB once again challenged on its mandate by market inflation expectations, we see relative rates moving for a weaker EUR/USD in 1-3M. Notably a negative Brexit risk premium could also be factored in ahead of the UK referendum but should be priced out swiftly in our main scenario of no Brexit.
We keep our forecast profile unchanged, which leaves some downside near term (1-3M forecast at 1.12) followed by a sustained move higher towards 1.18 in 12M as valuation continues to drive the cross higher.