Higher global interest rates could drive a new credit crunch in emerging markets, as companies that have ridden the wave of cheap money to load up on debt will slide into crisis, the International Monetary Fund (IMF) has warned.
According to the IMF's twice-yearly Global Financial Stability Report, the debts of non-financial firms in emerging market economies quadrupled, from $4tn in 2004 to well over $18tn in 2014.
This borrowing carouse has taken business debt as a share of economic output from less than half, in 2004, to almost 75%.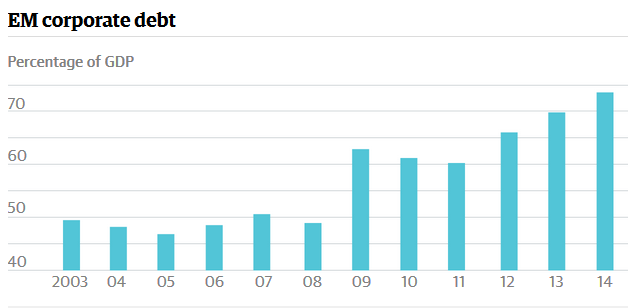 Source: Guardian, IMF

Chinese businesses top the list, but companies in other countries, including Turkey, Chile and Brazil, have also ramped up their debts — and could prove fragile as interest rates rise.
With the US Federal Reserve expected to raise interest rates in the coming months, the international body cautions that emerging market heads should brace for an increase in corporate failures, as firms struggle to meet steeply higher borrowing costs.
That could spur jitters among the local banks who have bought much of this new debt, causing them in turn to rein in lending, in a "vicious cycle" reminiscent of the credit crisis of 2008-09.
Janet Yellen, the Fed's Chairwoman, made clear that its recent decision to postpone a long-planned increase in rates was a result of the rout in emerging markets, in particular China. The IMF has urged the Fed to delay policy shift, because of the potential impact on other economies.
The fund was not alone to warn the U.S. central bank against the lift-off. Andy Haldane, the Bank of England's chief economist, said recently that the world could confront the latest leg in a financial crisis "trilogy", that started in US mortgage markets, flared up again in the eurozone, and has now reached emerging markets.