Do you like the article?
Share it with others —
post a
link
to it!
MetaTrader 4 on Mac OS
454 373
21
Introduction
Apple products have become very popular. MetaQuotes Software Corp. attentively follows the progress of the IT industry and has already released the special mobile applications for iOS-based devices - MetaTrader 4 for iPhone and MetaTrader 5 for iPhone.

In this article, you will find out how to work in MetaTrader 4 via the Apple's popular operating system.
Installing MetaTrader 4

The easiest way to install MetaTrader 4 is download the ready-made package from the official website. Install the platform similarly to any other application.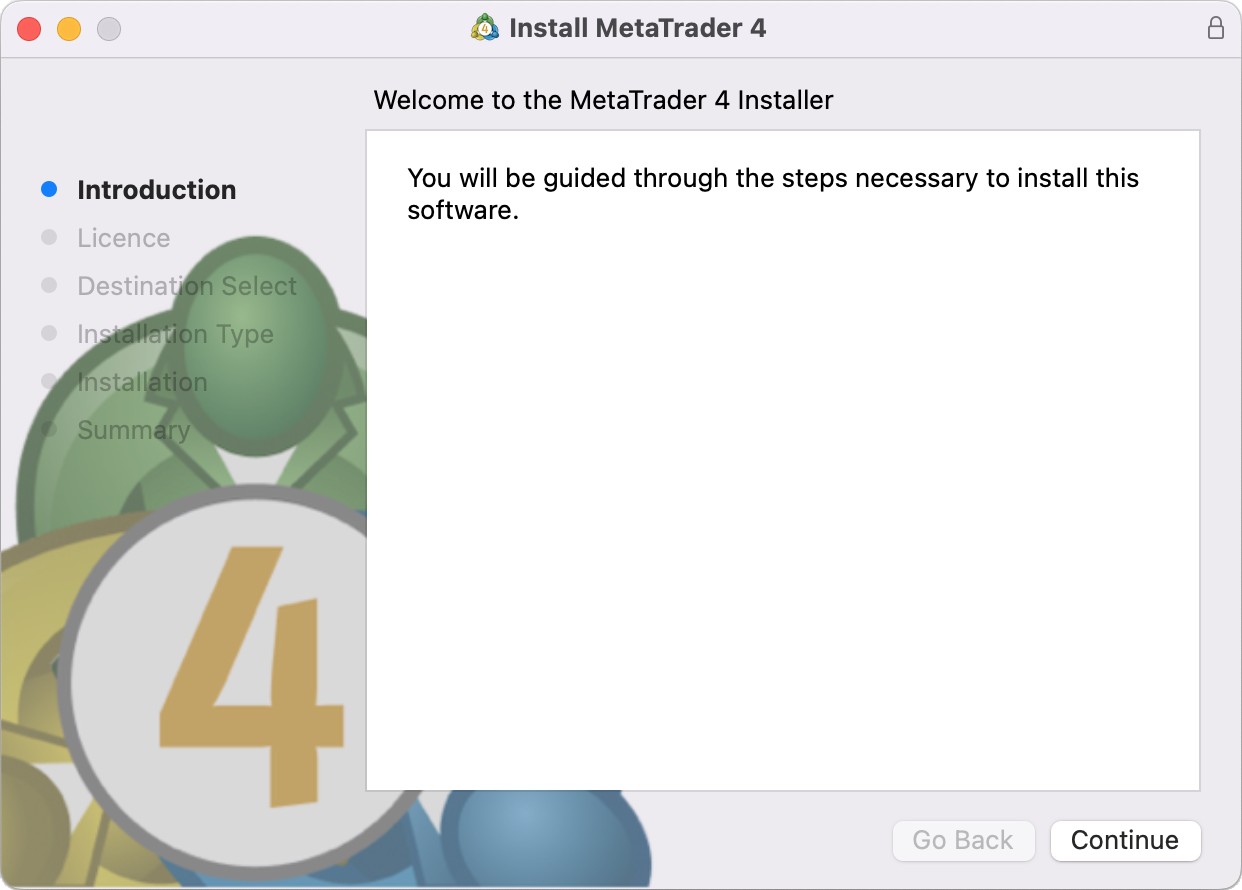 MetaTrader for MacOS supports the Apple M2 chip and works reliably on any system version including Ventura.
You do not need to download any additional components or make any complex adjustments. The platform is immediately ready to go after being installed from the package.
Download MetaTrader 4 for Mac OS
If this does not suit you for some reason, below is an alternative way to launch MetaTrader 4 platform on your Mac.
Installing Wine on Mac OS
Wine is a free software that allows users of the Unix-based systems to run an application developed for the Microsoft Windows systems. Among all the Wine versions there is one for Mac OS.

Note that Wine is not a fully stable application. Thus, some functions in the applications you start under it may work improperly or not work at all.

For the installation on Mac OS we recommend to use the free application PlayOnMac. PlayOnMac is a Wine-based software for easy installation of Windows applications on Mac OS.
PlayOnMac Installation
To install PlayOnMac, open the product's official web site, move to Downloads section and click the link for downloading the latest version.
After downloading the DMG package, launch it from Downloads section of your system: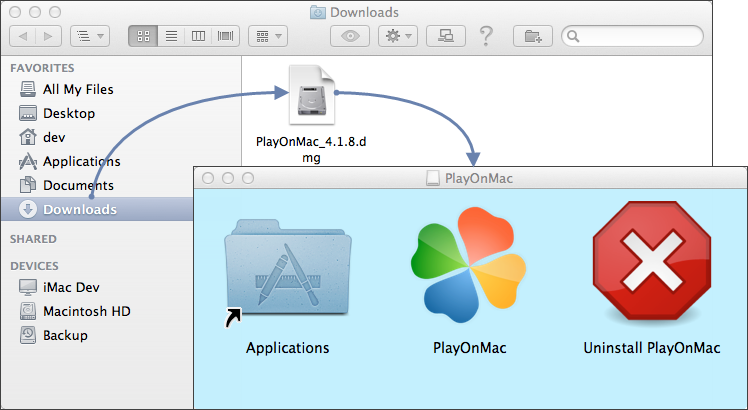 PlayOnMac first launch window will appear. After clicking "Next", the installer will start checking and installing the various components necessary for work.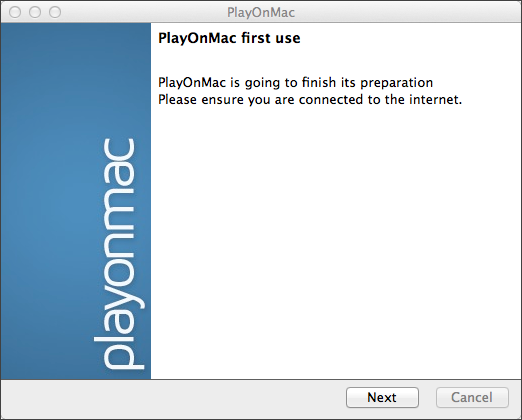 The first necessary component is XQuartz. This is a software for using X Window System on Mac OS. X Window System provides standard tools and protocols for building the graphical user interface in Unix-like OS.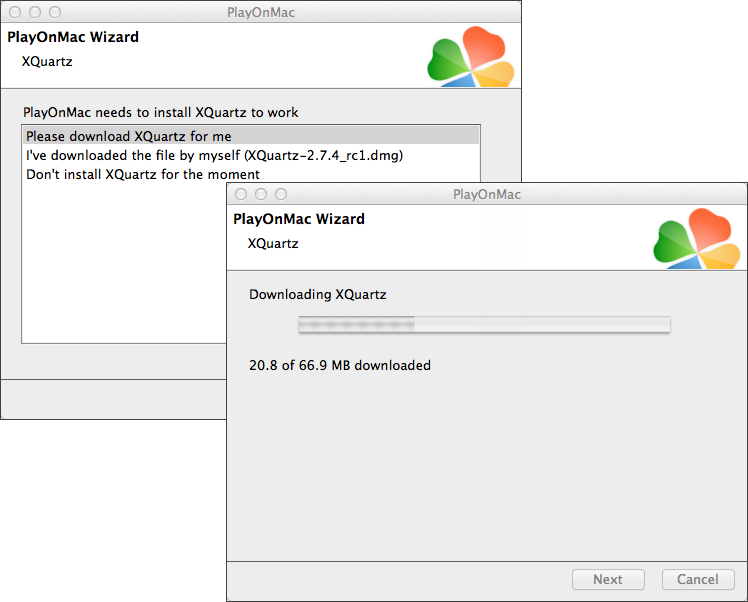 If you have already installed XQuartz or want to install it later, select "Don't install XQuartz for the moment" or "I've downloaded file by myself", respectively.

XQuartz installation is performed in several stages. First of all, you should read the important information (Read Me) and accept the license conditions.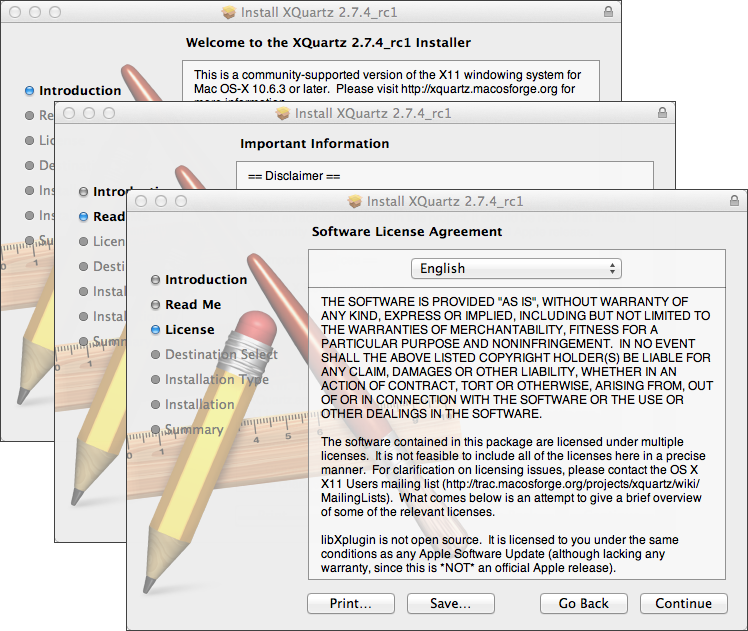 Before the installation, Mac OS security system will ask you to enter your account's password: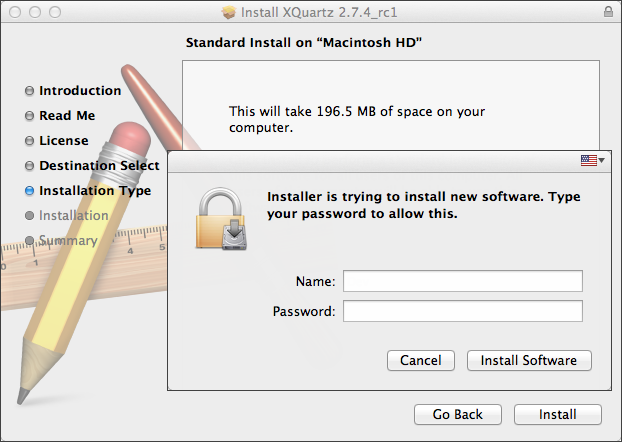 Wait for the installation to complete. For changes to take effect, you should restart your PC.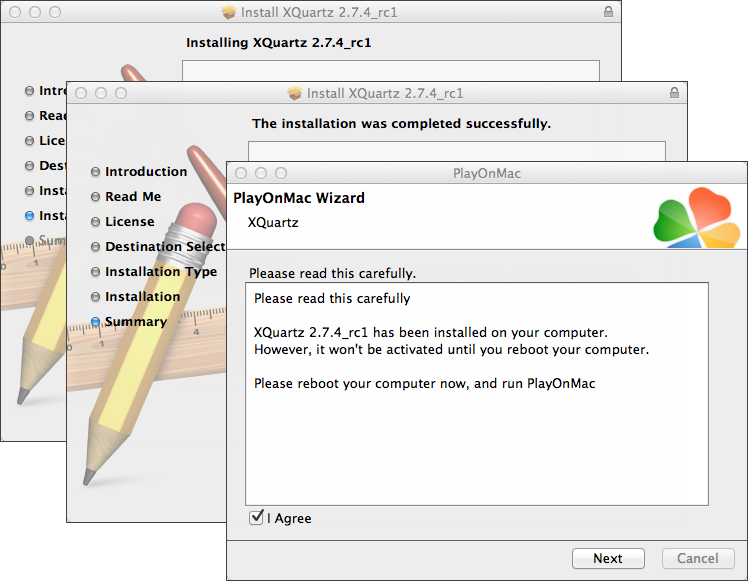 After restarting the system, launch PlayOnMac again from the setup file in Downloads folder. The first launch window will appear again. This time, the installer will offer to install MS Windows fonts necessary for correct operation.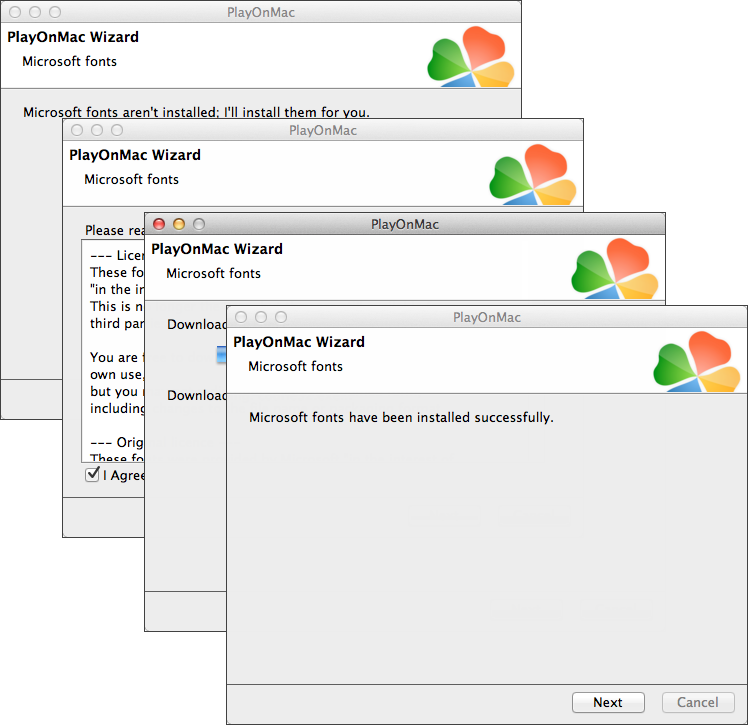 Accept the license agreement conditions and wait till the installation is complete. After that, PlayOnMac is ready for use. Its main window will appear:

Updating Wine

Wine v. 1.4 is installed together with PlayOnMac. Wine 1.4.1 is the latest stable version at the moment. Wine 1.5.21 beta release containing many improvements is also available for download. However, it may be less stable. It is recommended to install the latest version of Wine.

To upgrade Wine to the latest version, open PlayOnMac upper menu and select Manage Wine Versions: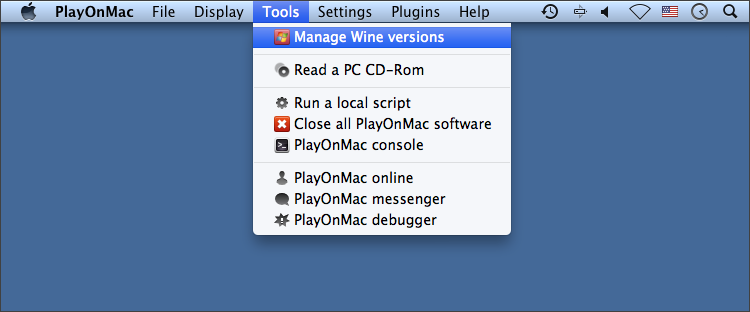 The window with Wine versions available for installation will open. Select the latest version (1.5.21 at the moment).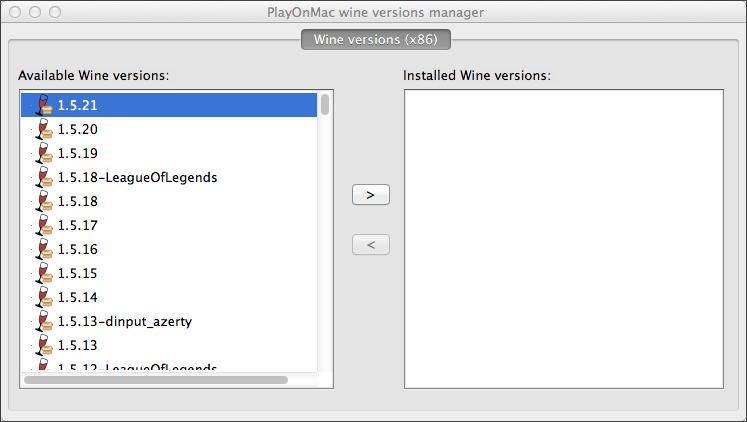 Move the latest Wine version to the right side of the window. The installation will start.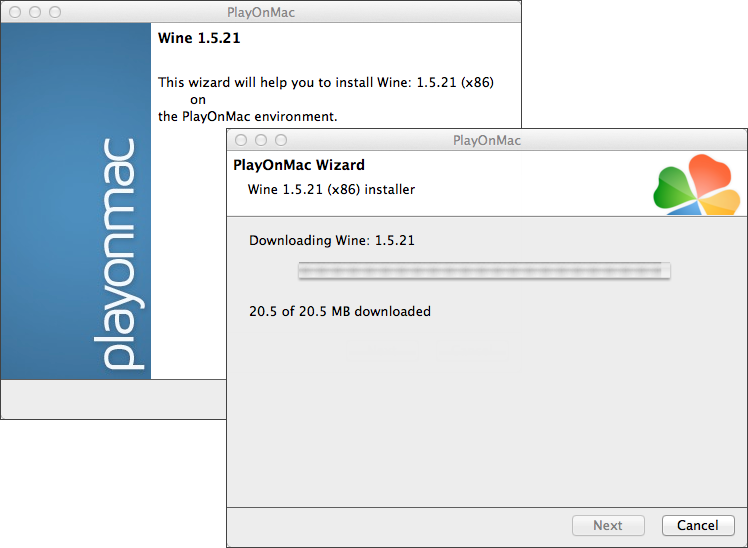 After the installation is complete, the new version of Wine will appear in the left part of PlayOnMac Wine versions manager window. You can then close the window and install MetaTrader 4 trading terminal.
MetaTrader 4 Installation

To install MetaTrader 4, download the distribution package from www.metatrader4.com official web site. After the download is complete, launch the setup file. PlayOnMac will be used automatically to open it.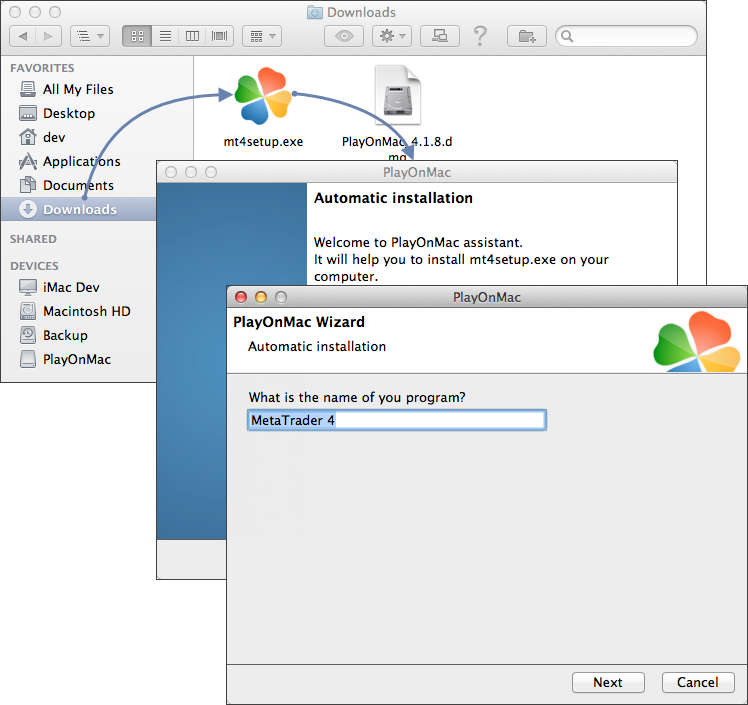 The standard terminal installation process with all its stages will start: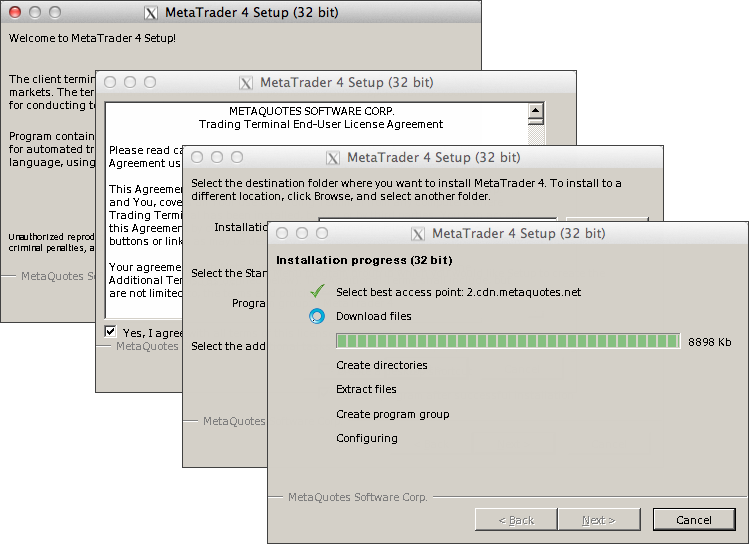 When the installation is complete, PlayOnMac will offer you to create the shortcuts for MetaTrader 4 terminal components - the client terminal itself and MetaEditor: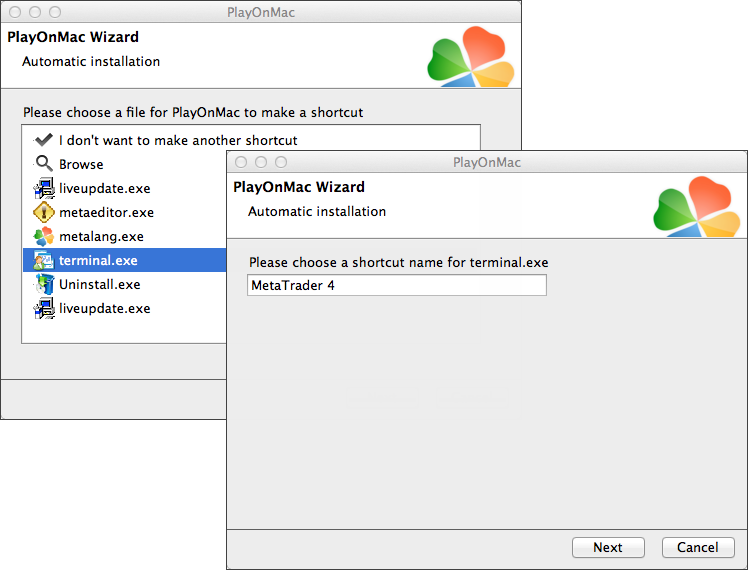 After creating the necessary shortcuts, you can start using MetaTrader 4. Double click on it in PlayOnMac window to launch the terminal.

Below you can see MetaTrader 4 terminal on Mac OS: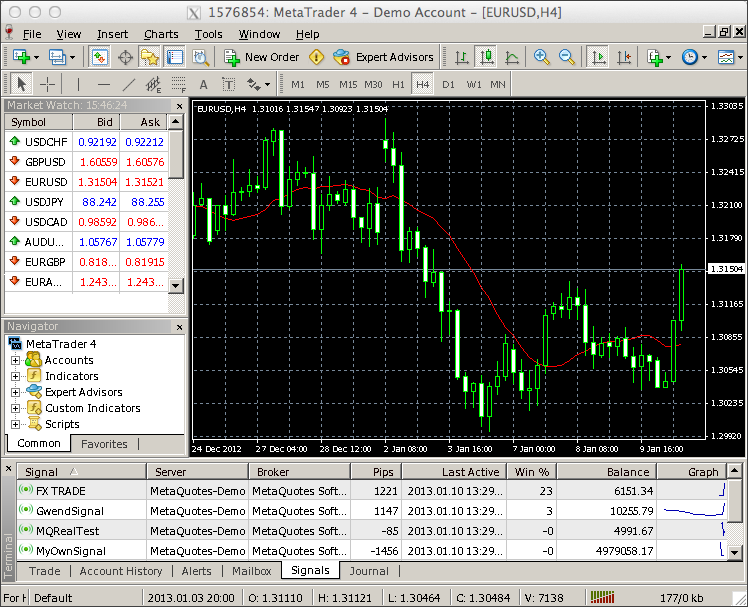 MetaTrader 4 Data Directory
PlayOnMac creates a separate virtual logical drive with necessary environment for each installed program. The default path of the installed terminal's data folder is as follows:
Library\PlayOnMac\WinePrefix\MetaTrader_4_\Drive C\Program Files\MetaTrader 4

Conclusion
In this article we described a fast and easy way to run the most popular application for Forex trading in Mac OS. We hope that this article, or - to be more precise - the comments to it, will become a good place for accumulating useful information about running MetaTrader 4 under this operating system.
Translated from Russian by MetaQuotes Ltd.
Original article: https://www.mql5.com/ru/articles/1356

An Insight Into Accumulation/Distribution And Where It Can Get You
The Accumulation/Distribution (A/D) Indicator has one interesting feature - a breakout of the trend line plotted in this indicator chart suggests, with a certain degree of probability, a forthcoming breakout of the trend line in the price chart. This article will be useful and interesting for those who are new to programming in MQL4. Having this in view, I have tried to present the information in an easy to grasp manner and use the simplest code structures.

The Golden Rule of Traders
In order to make profits based on high expectations, we must understand three basic principles of good trading: 1) know your risk when entering the market; 2) cut your losses early and allow your profit to run; 3) know the expectation of your system – test and adjust it regularly. This article provides a program code trailing open positions and actualizing the second golden principle, as it allows profit to run for the highest possible level.

MetaTrader 4 on Linux
In this article, we demonstrate an easy way to install MetaTrader 4 on popular Linux versions — Ubuntu and Debian. These systems are widely used on server hardware as well as on traders' personal computers.

Trader's Kit: Drag Trade Library
The article describes Drag Trade Library that provides functionality for visual trading. The library can easily be integrated into virtually any Expert Advisor. Your Expert Advisor can be transformed from an automat into an automated trading and information system almost effortless on your side by just adding a few lines of code.

You are missing trading opportunities:
Free trading apps
Free Forex VPS for 24 hours
Over 8,000 signals for copying
Economic news for exploring financial markets
Registration Log in
If you do not have an account, please
register