Interesting script?
So post a
link
to it -
let others appraise it

Period_converter_auto - script for MetaTrader 4
Views:

33225

Rating:

votes: 8

Published:

2010.03.18 08:55

Updated:

2016.11.22 07:32
You are missing trading opportunities:

Free trading apps
Free Forex VPS for 24 hours
Over 8,000 signals for copying
Economic news for exploring financial markets

If you do not have an account, please

register
Author:
me.

Basis of the script is the period_converter by Metaquotes. Most of the work has been done by them, so thank these guys.

Automatically converts M1-data to M5/M15/M30/H1/H4/D1 in a single run, then it stops. No more guessing whether the script is finished or not.
Usage:
1. Delete all *hst.files
2. Import your M1-data via History Center
3. open the M1 chart offline
4. attach the script
5. lean back and see "the magic" happen, then go develop great trading systems and keep in mind, that you get all this for free because there are people willing to share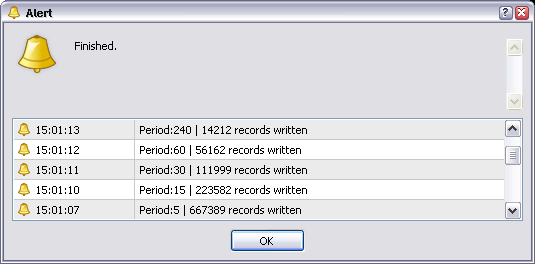 News Trader Strategy
This is an example of the one of trading news strategies. It can be a part of bigger EA which can play news.

Instrument
Displaying of candles of any instrument of any period.

ZeroLevel.mq4
The script make TakeProfit and StopLoss on price, where total profit for all of the opened positions will have non-negative.

Multicurrency Indicator
The Indicator analyses 4 currency pairs, compares them and prints the current divergence on the chart.