Interesting script?
So post a
link
to it -
let others appraise it

EES V Speed - indicator for MetaTrader 4
Views:

19696

Rating:

Published:

2009.08.22 17:33

Updated:

2014.04.21 14:54
You are missing trading opportunities:

Free trading apps
Free Forex VPS for 24 hours
Over 8,000 signals for copying
Economic news for exploring financial markets

If you do not have an account, please

register
V (Volatility) Speed is an indicator that displays the current high-low (range) of each bar on the chart, and displays it in the data window below with a smoothed average of the past x(3) bars. 3 is the default, the longer the period the more long term the value, in other words if you want a short term volatility indication to signal an increase in volatility, a lower number should be used.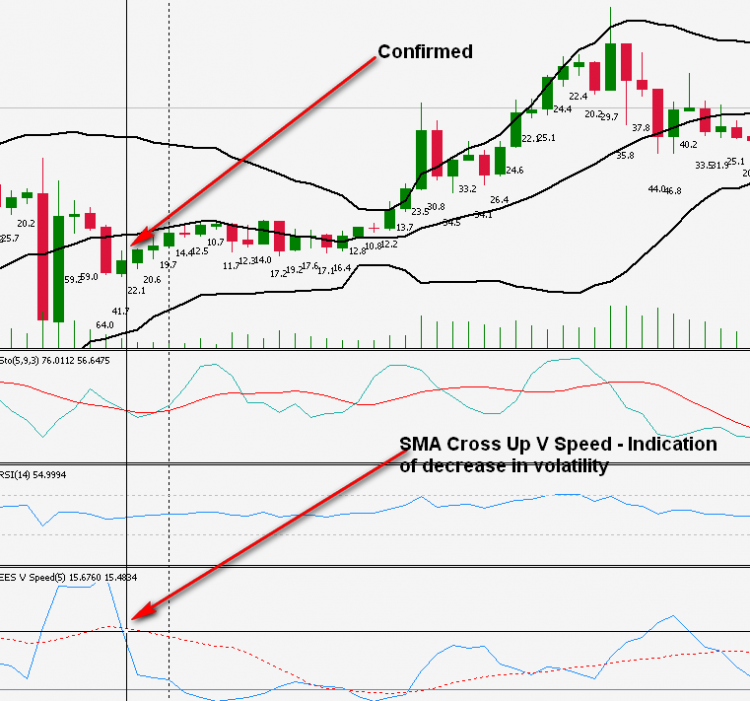 EES recommends using this indicator as a measure of volatility, and to signal an increase or decrease in volatility by watching the SMA. A cross up (when the SMA is below the V Speed line and crosses above it) of the SMA indicates a decrease in volatility and conversely, a cross down indicates an increase. The SMA values can be adjusted according to the specific pair and time frame used. V Speed can be referenced by strategies as an indication of volatility.
The name speed is derived from the method to determine how 'fast' volatility is moving, specific to your pair. Monitoring the VIX is not necessarily appropriate. V speed also is a handy tool to display each bars high-low which is the range.

JoeChalhoub FX Forecaster
The indicator predicts the future movement of prices.

FX Multi-Meter
Combines 9 indicators and 7 timeframes in an easy to read meter in bottom right corner, which can be used on any FX chart or timeframe.

Forex SKY
This Expert Advisor uses MACD Logic. It is Working fine. Yes Daily 10 Pips or 10$ you may get. !!! HAPPY TRADING !!!

Double-Zero Indicator
Visualizes important psychological levels ("Double-Zeros").