Script that contains both Stop Loss as Take Profit.
Getting your choice only use stop loss or stop loss with take profit.
Real author:
Valdir Nogueira
This script is recommended for robots that do not have stop loss, mainly scalpers and martingales.
It will only affect the robots corresponding to the number entered in the Number of EA field.
Below is description of the parameters: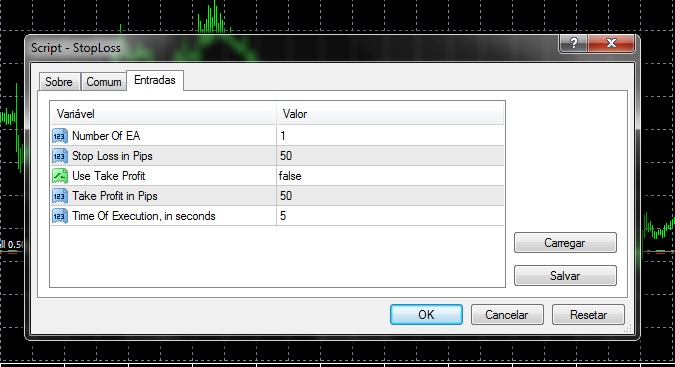 Parameters:
Number of EA: Number yours robot used in the graphic.
Stop Loss in Pips: Value of Stop Loss in Pips.
Use Take Profit: Yes or No, you choose to use the option to add also Take Profit for your orders .
Take Profit in Pips: If you use take profit is true, he had taken as the basis of the number Pips added to the field.
Time of Execution, in seconds: Very important parameter, if your robot is scalper, which opens many transactions, set the seconds to a value of approximately 3 seconds. Always use the value greater than 1 second.